TODAY'S NEWS: Amy Grant, Paul Colman Trio & MercyMe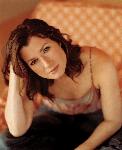 TAKE HER OUT TO THE BALLPARK…While she awaits the August 19 release of her new album, "Simple Things," Amy Grant will hit the big leagues this week … literally. Just grab some peanuts and Cracker Jacks and settle in front of the tube to catch Grant performing at the 74th Major League Baseball All-Star Game today, Tuesday, July 15. She'll take the mound at U.S. Cellular Field in Chicago, and it will be televised at 8 p.m. E.S.T. on Fox. Grant, who is slated to perform "God Bless America" during the seventh-inning stretch, joins A&M recording artist Vanessa Carlton, who will sing the National Anthem. Grant has also made plans to join fellow artists and speakers like Michael W. Smith, Avalon, Natalie Grant, MercyMe, Out of Eden, Beth Moore, Frank Peretti, Philip Yancey and others at this year's 29th Annual Praise Gathering, hosted by Bill and Gloria Gaither at the Indianapolis Convention Center. The event won't take place until October 9, but tickets are already on sale. Go to www.praisegathering.net for more info.

THE FRIENDLY SKIES… We caught up with the Paul Colman Trio yesterday at the Christian Booksellers Association (CBA) Convention in Orlando, Fla., and the Aussie imports told us a story that gave the term "friendly skies" a whole new meaning. Turns out being in Orlando was going to cause band member  Phil Gaudion to miss daughter Brianna's third birthday, but thanks to Air Newsboys (a.k.a. the use of the Newsboys' private jet), the family may all be spending the day together at the Magic Kingdom. We guess it pays to have friends in (mile) high places! Meanwhile, band mates Paul Colman and Grant Norsworthy will fill in for Phil during Tuesday's interviews and appearances. Chances are Gaudion will get to repay the favor in the very near future. The guys will have to continue to get creative when it comes to carving out family time as they tour extensively this fall to promote their upcoming disc "One," due out September 9.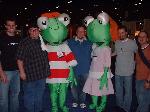 PUTTING THE "BIG" IN BIG DADDY… They aren't called Big Daddy Weave for nothing. As we strolled the exhibit hall of the CBA Convention with the Weaver brothers and the rest of the band, they kept us entertained with tales of a recent bus mishap that had them rolling in the aisles — literally. As their bus, which they refer to as a "vehicular monstrosity," pulled into a weigh station in the wee hours of the morning, their driver was given the bad news that there was way too much weight on the rear axle to allow them to pass. To redistribute the 1,300 pounds that was weighing down the back of the bus, the guys were roused from their bunks and forced to balance precariously in the center aisle of the bus. Miraculously, it worked, and they were allowed to continue on to their destination. And that didn't stop them from accepting two boxes of peanut brittle from a grateful retailer at the convention. The boys also agreed to sign a vinyl monkey (when asked, we were given some story about it being auctioned off at Georgia Tech to benefit missions) and gamely posed for this photo with two new video characters, Buzz and Poppy (at right). Talk about being a ton of fun!