TODAY'S NEWS: Andy Griffith, Carman and Across the Sky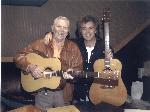 NO RITZ NECESSARY – Well, Andy Griffith may have thought that "everything tastes better when it sits on a Ritz," but we're here to tell ya that Andy's forthcoming Sparrow Records holiday project, "The Christmas Guest," will sound a-okay with or without a salty cracker.  Best known for his work on earlier television favorite "The Andy Griffith Show", as well as "Matlock" in the mid '80s, Griffith has also recorded many albums over his illustrious career.  This time out, he's paired up with country star and producer Marty Stuart for a collection of holiday favorites which is due to hit the streets on September 30, 2003 (for your early Christmas shopping convenience, natch).  An added -- and arguably unexpected -- bonus on "The Christmas Guest" are three short story readings à la Griffith.  Also, an accompanying gift book releases October 9 from J. Countryman Publishing. 

RED, WHITE & CARMAN – Our nation's birthday is coming down the pike and Carman is throwing a rip-snorting soiree with his upcoming television special, "Carman's Red, White & Blue Spectacular."  Premiering on Trinity Broadcasting Network (TBN) on June 29, 2003 at 7 p.m. P.S.T./9 p.m. C.S.T. (as well as re-airing throughout July 4th weekend), the two-hour celebration will feature footage of Carman interviewing military leaders at the Pentagon and the naval shipyard in Norfolk, Va.  Carman will also debut songs from his forthcoming disc, "House of Praise," releasing later this year on Here to Him Music Group's Cross Driven Records.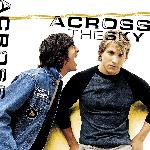 IT'S A BIRD, IT'S A PLANE – It's Across the Sky, Word Records' newest pop/rock duo featuring two 21 year-olds – Ben Kolarcik and Justin Unger.  Once both pursuing solo careers, now the two who met last year at Word Records' offices are going the duo route.  Armed with over 50 co-written songs and the production powerhouse posse of Pete Kipley, Jeremy Bose, and the team of Jim Cooper and Kenny Lamb, Across the Sky entered the studio this past spring and emerged with a self-titled collection of pop, rock, and harmonious ballads.  "Our songs are full of hope and faithfulness," comments Justin.  "Everyone can relate to at least one of them because we're talking about life."  Keep your ears peeled for first single, "Found by You," which goes for adds to AC and CHR radio this week.  For upcoming summer music festivals appearances and more info on Across the Sky's July 8, 2003 disc debut, visit www.acrossthesky.com.