TODAY'S NEWS: Bono, MWS Support ONE Campaign & More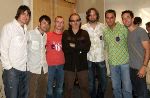 ONE WORLD, ONE CAUSE … Worlds collided this past weekend when mainstream rock, Christian music, professional sports and faith-based organizations were all represented at the official launch of the "ONE" campaign in front of Independence Hall in Philadelphia.  U2 lead singer and co-founder of DATA, Bono, lead the rally encouraging Americans to sign the ONE petition at www.theONEcampaign.org and encourage political leaders to help fight global AIDS and extreme poverty.  "I'm just one noisy rock star," he says, "but with one big powerful movement in America for global justice and compassion we can get much more effective assistance to the places that need it and save millions of lives." 
Michael W. Smith was also in attendance, representing the coalition of top names in Christian music who have become "DATA Artists."  "It is so easy to become distracted and lose sight of really important things," he says.  "We can't lose focus on the incredible AIDS tragedy in Africa.  One by one, we can all make a difference."  Fellow Christian musicians Jars of Clay also spoke and performed during an additional event at the Philadelphia Cathedral during the ONE campaign launch.
New York Knicks center Dikembe Mutombo was also on hand, lending his support to the cause.  The native of the Democratic Republic of Congo is building the first new hospital in his homeland in 40 years.  "Building a health care center in Africa is one way to make a difference, but it's not the only way," he says.  "I support the ONE campaign because all changes starts with the power of one, and step one is to sign the petition."
World Vision President Rich Stearns and Bread for the World President Rev. David Beckmann also spoke at the rally.  Besides faith-based and antipoverty groups, corporate partners including AOL, House of Blues and the NBA are also pledging their support in the fight against global AIDS and extreme poverty.  For more information and to sign the online petition, please visit www.theONEcampaign.org.  Pictured above left are (l to r):  Jars of Clay's Dan Haseltine, Charlie Lowell and Aaron Sands; Bono; Matt Odmark of Jars of Clay; Michael W. Smith; Stephen Mason of Jars of Clay.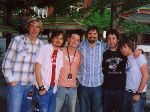 HE'S YOUR MAC DADDY … So if you were just starting out in your music career, wouldn't it feel good to have someone older and wiser to help guide you along the way?  Someone say like Third Day lead singer Mac Powell?  Well, if you're a member of the new Essential Records group, Overflow, then that's your story and you're sticking to it.  Seems Mac first heard of the young South Carolina-based group via friend and colleague Scott Wilbanks (NewSong) who produced the band's debut project.  "Overflow reminds me so much of us (Third Day) when we first started out," Mac shares.  "They are five normal guys from the South who love Jesus and want to share their faith through their amazing music."  Powell serves as executive producer on "Better Place," which is set to hit stores on August 24.  In the meantime, visit Overflow on the Web at www.overflowrocks.com.