TODAY'S NEWS: Christian Music Artists Respond to War in Iraq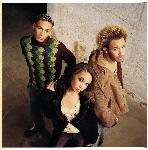 As the United States has gone to war with Iraq, people everywhere are praying for wisdom for President Bush and his advisors, for our military, for America's safety, and for the preservation of innocent lives. 
Crosswalk.com asked sibling trio Souljahz (Je'kob, Rachael, and Joshu'a Washington) and several other artists in the contemporary Christian music community what their prayer was during this critical time in our nation's history.
---
Chuck Dennie of By The Tree
Fervent Records
"That Wisdom will be in our leaders decisions.  I believe that the Lord is ultimately in control, and I believe that our President listens and believes his actions are covered by much prayer and spiritual direction."
Shane Moe of 38th Parallel
Squint Entertainment
"I'm praying that true justice would be both clearly understood and aptly glorified when this is all over.  Any authentic instance of justice inevitably points to the ultimate origin and standard of all justice -- the true and just character of God."
Rodrigo Espinoza
One Voice Records
"I pray that the Lord protects all the innocent people involved oversees and in the United States.  I pray for wisdom for [President] Bush to accomplish a safe mission."
Nate Sallie
Curb Records
"For Peace and protection for our troops, President Bush and our leaders for a quick and mighty outcome for liberation for all!"
Souljahz
Squint Entertainment
"The war with Iraq has evoked many opinions and questions for Americans and especially for Christians.  We pray that God's hand would be over our troops but even more so over the innocent victims in Iraq who need His Word and His love more than ever.  We pray that God would reveal His son Jesus Christ to millions worldwide and use this war and our president's efforts to eliminate terrorism and cultural hatred as a tool to save many.  In times like these it is hard to know where to begin in prayer, but we definitely know where to end ... Heavenly Father, thank you for JESUS!!!  Amen."