TODAY'S NEWS: City on a Hill, Alvaro Lopez, Ten Shekel Shirt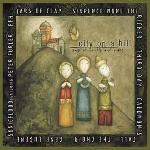 AND I JUST CAN'T HIDE IT – The light of the first "City on a Hill" installment ("City on a Hill:  Songs of Worship and Praise") shown so brightly nearly three years ago that modern worship as we knew it was most likely changed for the better.  And apparently, we all liked it as the "City on a Hill" series has recently achieved cumulative sales of more than 700,000 units.  The simple genius that began with initial pairings of some of Christian's music's finest (Jars of Clay, Sixpence None the Richer, Caedmon's Call, Third Day, FFH, Newsboys' Peter Furler, Sonicflood, The Choir and Gene Eugene) has carried on through other offerings in the series ("City on a Hill:  Sing Alleluia" and "City on a Hill:  It's Christmas Time") and will end with a third, non-seasonal installment, "City on a Hill:  The Gathering," this September 23, 2003.  "There is something conclusive about the number three in relation to the Trinity," shares producer Steve Hindalong.  "'The Gathering' will focus on our need to love on another, a concept that artistically seems to complete the series. "  Produced by Hindalong and Marc Byrd, the last "City on a Hill" disc will feature a Dan Haseltine (Jars of Clay) interpretation of "Come Thou Fount", as well as a duet by Bebo Norman and Leigh Nash on "Beautiful, Scandalous Night" -- an account of Christ's death and resurrection.  Other artists in the mix this time out include Caedmon's Call, Sixpence None the Richer, Paul Colman Trio, FFH, Sara Groves, Derri Daugherty (The Choir), Andrew Peterson, and brand spankin' new Essential Records band, Silers Bald.  One last thumbs-up note … just last month, 2002's "City on a Hill:  Sing Alleluia" snagged the Dove Award for "Special Event Album." 

WATCH OUT DRUMMER BOY – So you think you've got what it takes to grab some ink in "Guinness"?  Well, try doing some "rum pah pum pum" continuously for 60 hours with only 15 minute breaks every 8 hours, and 15 second breaks between each song.  That's the goal that One Voice Records drummer and recording artist Alvaro Lopez is hankering and  hoping to do this month when he attempts the feat at the 2003 Expolit Convention in Miami, Fla.  The current Guinness World Record for "Longest Drumming Marathon" is held by South Africa's Michael MacPherson who played for 50 hours and 30 minutes back in 2002.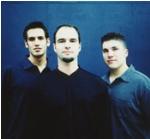 TRY SAYING THIS 10 TIMES FAST – Ten Shekel Shirt is set to release "Risk" this August 26.  (And repeat.)  Seriously, the INO Records trio is putting the finishing touches on their follow-up to 2001's "Much" and sophomore project, produced by Brent Milligan and Monroe Jones.  Less acoustic and more electronic this time out, "Risk" takes Ten Shekel Shirt in a different direction musically … and also lyrically.  "So often we think that meeting with God has to happen in worship, but it can happen while reflecting on a loved one, spending time with good friends or reaching out to those in need," says lead vocalist Lamont Hiebert.  "That's what this record is all about."  Listen for first AC radio single, "Poorest King," which goes for adds in June, as well as the CHR single "Cheer Up."