TODAY'S NEWS: downhere, Eric Horner and Relient K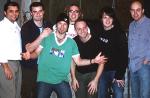 IT'S THE REAL DEAL – The Great White North's foursome known as downhere won't be slipping you spam for ham on their June 10, 2003 Word Records sophomore project, "So Much for Substitutes."  Oh no … nothing doing.  "This album is an honest portrayal of our growth and struggles over the last two years," shares lead guitarist/vocalist Marc Martel.  "We're trying to explain in our art what being a Christian is and to be as deeply layered as possible," adds band member guitarist/vocalist Jason Germain.  Voted by ccmmagazine.com's readers as the "Most Impressive New Artist of 2001," the Canadian foursome worked with renowned producer Jimmie Lee Sloas (PFR, Switchfoot) this time and have kicked it up a notch in the rock department, while beefing up the lyrics (topics include depression, loneliness, pain, worship, being Christ-like, etc.).  Next month, downhere is up for a 2003 Vibe Award for "Group of the Year."  To vote for the Vibes (the Canadian Gospel People's Choice Awards), click here.  Virtual polls close on May 19, 2003. 

LET'S HEAR IT FOR GIRL POWER – Rescued POW Jessica Lynch should just go ahead and name and claim "She Is a Hero."  Although originally written by Reborn Records' artist Eric Horner for the upcoming "Women Are Heroes Too" event in Washington, D.C., the anthem was used recently as a backdrop for a story about Jessica that ran on the local NBC television affiliate in her home state of West Virginia.  "She Is a Hero" will be performed live and in person by Horner when he appears at the May 21 women's event at the Women in Military Service for America Memorial, located at the gates of the Arlington Cemetery.  Horner, who has been touring with country great Lee Greenwood as his band leader and guitarist, will release "Freedom Rings," his CD of patriotic tunes including "She Is a Hero," next week.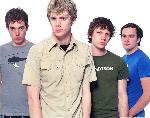 BETTER THAN A GREMLIN – No car or driver reports are needed to know that Relient K is tops in its class these days.  With a hit like "Chap Stick, Chapped Lips, and Things Like Chemistry" making the rotation rounds on Much Music's Rockzilla, as well as MTV's College Television Network (785 major campuses), the Ohio-based punk pop quartet is not doing too shabby.  Latest Gotee Records disc, "Two Lefts Don't Make a Right (But Three Do)," is also unstoppable, scanning over 79,5000 copies in only six weeks' time.