TODAY'S NEWS: downhere, Newsboys & GlassByrd at GMA Week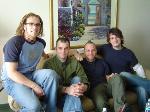 WHAT'S IN A NAME -
The "rock-stars-need-money" guys of
downhere
were quite chatty when asked to discuss three things today at GMA Week in Nashville, Tenn.: their all lowercase, one-word moniker, the name of their upcoming sophomore project on Word Records (
"So Much for Substitutes"
), and even their own last names. Originally called "Foot Stool" way back in the day (yes it's true), downhere took their new name from a song of the same name which was written by vocalist
Marc Martel
. "For me, the name really challenges me," shares Marc, "because I want to always keep honest and real and write about what life is like down here as a human." While their Jimmie Lee Sloas-produced "So Much for Substitutes" isn't due out 'til June, the Canadian posse did reveal some insight behind that tasty album title as well. "Christ lets us try substitutes. And if we're honest, the things we think are the real thing are really not," explains Marc. "A lot of times people will turn to love or relationships," adds vocalist
Jason Germain
. "Those are so important, and although they are a picture of Christ's love for us, they're not the real thing. It is a substitute." When asked who had the most interesting last name in the group, naturally everyone had their own reasons for sticking by their own. While Jason Germain's last name really should be Wilson (lonnng story
Glenn Lavender
clearly has no problems with the color purple ("I think it's excellent!"). Marc (meaning "mighty warrior") Martel (meaning "hammer") gave a quick history lesson, revealing that the first Martel was an army general during the Roman Empire (Charles from France). And then there was
Jeremy Thiessen
, who says that his last name is actually
Mennonite
and that everyone pronounces it wrong (say you're sorry ... and then say "Tee-son).
BUT WHAT MAKES IT A WORSHIP SONG -
A short visit with
Newsboys
' lead singer and chief operating songwriter,
Peter Furler
, led to talk about the band's brand spanking new
"Adoration"
CD which led to the question -- What makes a worship song a worship song? Here's Peter's definition on that subject: "There are songs that seem to regurgitate the chaos that happens in life, and there are songs that come out of the chaos and point to the cosmos. And that's maybe the difference. Or maybe it's the difference between great art and bad art. I'm of the opinion that all great art is Christian art no matter what. If it points higher and if it points to the Rock that's higher than I, then it's good. Worship music has to be that. And the beautiful thing about it is that it can be done with three chords and a very simple lyric -- but that lyric has to be brushed by the Spirit."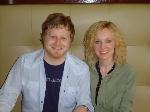 SO HAPPY TOGETHER - GlassByrd
's
Christine Glass
and
Marc Byrd
live together, work together, travel together and take a little down time together whenever possible. And it's a good thing that they're married, in love, and best friends to boot! Every song of their recent Word Records release,
"Open Wide This Window,"
showcases their ability to work together as husband and wife in a creative setting. One fine example of that beautiful music,
"Everywhere I Turn,"
began when Christine wrote the lyric during a personal retreat in Sewanee, Tenn. After arriving back home, she discovered that Marc had been working on a chord progression. And when word and music were put together ... voila! ... "Everywhere I Turn" was born. But what do the two enjoy doing when they're not writing, singing, touring, or in the studio? Marc says that "on Friday nights we go to a little Cajun place and have Cajun catfish and gumbo." "And they play 'American's Funniest Home Videos,'" adds Christine while giggling. "It feels good to not have to be cool," chimes Marc with a sigh of relief. "That gets so old."