TODAY'S NEWS: Greg Long, New Direction & More Dove Nominees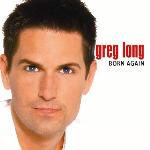 NEW DISC, NEW LIFE, NEW GROUP … Words like "born again" and "birth" and "new guy" are bound to have special meaning these days for Greg Long.  With the release of his fifth studio recording, "Born Again," on Christian Records this February 17, the Dove Award-nominated singer/songwriter offers a new rendition of the classic "Rise Again," written by Christian music pioneer Dallas Holm back in 1977.  Already released to radio as the first single, the track is special to Long as he recommitted his life to Christ as a teenager during a Dallas Holm concert.  "It's also very meaningful to me that we were able to include the home movies of my baptism in the Gulf of Mexico by my father on the music video of 'Born Again,'" Greg shares.  Other points of interest include a special appearance by 4Him's Andy Chrisman on "Be Near" and Greg's co-writing efforts on nine of the album's 10 tracks.  Now in regards to "birth," Greg and wife Janna Long (Avalon) are expecting their first child this spring just as he joins as the "new guy" and newest member in Avalon during their promotional tour for "The Creed" – the group's sixth studio project which releases February 24. 

THINGS ARE LOOKING UP … Things are definitely looking up for Gospo Centric Records' New Direction.  The youth choir, comprised of inner-city Chicago young men and women from 16 to 25 years old, have already released FOUR singles from their February 24 project, "Rain."  Radio stations in Houston, Baltimore, Atlanta, New York and elsewhere are spinning and flipping "I'm Gonna Wave My Hands", "Heal the Land", "I'm in Love with Jesus" and "A Song."  New Direction's 40+ vocal ensemble and their five-member band will hit the road later this month on the "Experience the New Life" tour with labelmates Percy Bady, Natalie Wilson & the S.O.P. Chorale, as well as recent Stellar Award-winning "Male Vocalist of the Year" Byron Cage.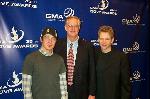 ALL ABOUT DOVE, DOVE, DOVE, DOVE … Steven Curtis Chapman (pictured far right with Gospel Music Association president John W. Styll, center, and Toby McKeehan, far left) not only helped announced the nominees for the 35th Annual Dove Awards earlier this week with friend and fellow musician Toby McKeehan (dc Talk), but he also garnered his very own SEVEN nominations.  And then he wrangled a nod for producing "New Artist of the Year" nominee Casting Crown's self-titled debut – hey, that's one busy man.  Other multiple nominees include Switchfoot, Stacie Orrico, CeCe Winans and Third Day.  With a total of six nominations, Switchfoot could potentially walk away with Doves for "Artist of the Year" for their crossover disc, "The Beautiful Letdown," and also individual statuettes for bandmates/brothers Jonathan and Tim Foreman for their songwriting skills.  The San Diego-based band's competition for the prestigious "Artist of the Year" designation includes MercyMe, Stacie Orrico, Michael W. Smith, and Randy Travis.  Now that the nominees have been announced, the 4,500 member Gospel Music Association will start their voting in 44 different categories.  Eligible albums are those which were released between November 1, 2002 and October 31, 2003.  For more information about the nominees and the April 28 ceremony, go to www.doveawards.com and tell 'em we sent ya.