TODAY'S NEWS: "!HERO", Jill Parr and NewSong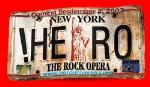 WE NEED A HERO – Only from the mind of Christian music vet Eddie DeGarmo (DeGarmo & Key) could come "!HERO", an outside-the-box project that includes a rock opera,  a novel, a tour, and a comic book series.  In "!HERO", DeGarmo and co-writer Bob Farrell have created a modern-day version of the life of Christ where Jerusalem is now New York City -- and some are saying it could become the "Jesus Christ Superstar" for today's generation.  Now, in order to get the Gospel to an MTV generation it's going to require a 24-song CD (due out September 2, 2003) and a fall 2003 tour which will feature a bevy of Christian music celebs:  Michael Tait (Tait, dc Talk) as Hero, Rebecca St. James as Maggie, Mark Stuart (Audio Adrenaline) as Petrov, and other performances by T-Bone, Grits, John Cooper (Skillet), Nirva, and Matt Hammitt (Sanctus Real).  On October 2, 2003, NavPress will release the novel "!HERO" which was penned by Stephen Lawhead.  He also collaborated with Ross Lawhead on the comic book series (inked by illustrators from DC Comics) which will release on November 2, 2003.  For more information about "!HERO" and to sign up to win a trip for two to a sneak preview at the Hard Rock Café Universal Studios in Orlando, Fla., visit www.herouniverse.com.

MOVE OVER WILLIAM – There's a new Orbit in town and it's coming at you loud and clear on June 3, 2003 from Christian Records artist Jill Parr.  A fusion of current alternative and new fashion pop, "Orbit" was produced by Brian Hardin (FFH, Larry Norman, These 5 Down) and features a cover of Sting's "If I Ever Lose My Faith in You."  Why such an ambitious undertaking?  "I really feel like [it] belongs on this record because it is so relevant to the times we are living in.  I can lose my faith in popular science, and the church may disappoint me, but God will never let me down.  If I lose my faith in Him, there'd be nothing left to believe in."  For those across the pond and beyond, watch for Jill on the "Left Behind" tour this fall in Europe.  And wherever Christian radio is heard (international or stateside), be sure to listen for the first singles "This I Know" (AC) and "Orbit" (CHR) which are currently going for adds.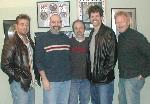 SMILES EVERYONE … SMILES –  It's all bright eyes and toothy grins for NewSong (pictured here in studio  with producer Brian Tankersley), as they've wrapped up work on their next pop album on Reunion Records.  Titled "More Life," the band's 14th studio album will release on September 9, 2003 -- and besides Tankersley, Bryan Lenox and NewSong members Eddie Carswell and Michael O'Brien also got their fingers in the production pie.  "We have spent more time making this record than any in our history," admits Carswell.  "We believe the result is one of our best projects ever."  And the fans will be so glad to hear that!  For more on "More Life" and all things NewSong, check out www.newsongonline.com.