TODAY'S NEWS: Jill Paquette, DW and Mars ILL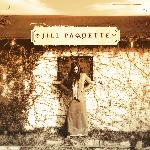 RHYMES WITH BAGUETTE – Good things keep coming down the way from the Great White North.  (Think downhere, Carolyn Arends, Matt Brouwer.)  And this summer Canadian singer/songwriter Jill Paquette will release her very own good thing, a.k.a. a self-titled debut on Reunion Records on July 22.  The 11-song project was produced by Steve Rendall (Matt Brouwer) and Phil Madeira (Rich Mullins, Phil Keaggy) with all songs written or co-written by Paquette, who as a classically trained musician began playing piano at age three and then guitar when she turned 16.  "The acoustic guitar is easily one of the coolest instruments in the world," says Jill.  "When I started playing that, it just felt like home."  And while we're being all warm and fuzzy here, seems that radio stations are already welcoming Paquette into their "homes" via her first radio single, "Lift My Eyes."  "I love the departure from all the poppy stuff," says Scott Smith, music director for CHR station WPOZ/Orlando.  "Jill's blend of incredible lyrics and 'folk pop' styling make her music the breath of fresh air that I love.  But more importantly our listeners will love it, too." 

AND THE "CRABBY" AWARD GOES TO – Yes, campers, there really is an award out there called the "Crabby Award."  Named after Macintosh author and columnist Don Crabb, The Crabby Awards were recently announced at this year's MAC Design Conference in Chicago.  And low, and behold, didn't DW's (Daniel's Window) CD "Illuminate" (Cul-De-Sac Records, Butterfly International Distribution) win "Best in Show" for its cover art.  Stephen Jensen of Chicago-based design firm F3 Design gets the credit, and word is that software giant Pantone will feature the award-winning artwork in an upcoming ad campaign.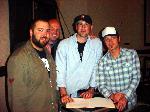 NO DOWNWARD DOGS OR COBRAS  REQUIRED – With your copy of "BACKBREAKANOMICS", you'd think you'd need a yoga mat or something else exercise related.  Au contraire, mon fraire.  All that's needed here is one healthy appetite for innovative hip-hop.  As the forthcoming album from Mars ILL, "BACKBREAKANOMICS" also marks the Gotee Records label debut for the duo, comprised of ManCHILD and DJ Dust (pictured here at signing with Gotee).  "We're excited about signing on with Gotee," shares ManCHILD.  "We refused offers from other labels in the past and held out simply because no one seemed to understand what Mars ILL is about.  I can honestly say these guys get it."  Well, we're glad the Atlanta-based duo has found a happy label home and look forward to the "unusual intersection of forward-thinking music" and "intelligent, artful storytelling" on  "BACKBREAKANOMICS" which hits the streets on August 19.