TODAY'S NEWS: Kutless, MercyMe & Starfield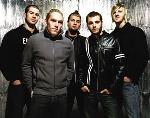 IT'S ALL GREEK … Just call them "Kutless-opolis" this summer, if you like.  In the spirit of the XXVIII Olympiad in Athens, Greece, this coming August, the Tooth and Nail/BEC Recordings band known as Kutless will perform at many historic landmarks in the birthplace of the ancient Olympic Games.  In conjunction with IntheBible.com, the rock outfit will play at the Omonia Square city center (August 27), at Monastiraki at the base of the Acropolis in the shadow of Mars Hill (August 28) and at Koropi (August 29).  Sponsored by Virgin Megastores and Metropolis Megastores, the first two Summer Olympics shows will also have an active radio presence through "on-air reports" from the Olympics through KLOVE, Air-1 and the Effects Radio Networks.  At the third performance, Kutless will play for over 2,500 missionaries from around the world.  "Sea of Faces," the band's sophomore project, released this past February and has sold 70,000 units to date according to Soundscan.  Second single and title cut, "Sea of Faces," broke into the Top 5 on CHR radio this week and is also generating the first AC interest for Kutless while currently No. 14 on the AC charts.  The band returns to the studio this fall for pre-production on their third record.

MUSICIANS TURNED AUTHORS … When MercyMe sees their "I Can Only Imagine" gift book released on June 22 by J Countryman 
publishers, it will feature a very important, last-minute addition that almost didn't make the title's printing.  That special story describes a letter sent to the band from L. Col. Joseph Piek, currently stationed in Mosul, Iraq with the 3rd Brigade, 2nd Infantry Division, the U.S. Army's first Stryker Brigade Combat Team.  As a recipient of one of hundreds of copies of the "I Can Only Imagine" single, Piek's letter shares the importance of MercyMe's hit song in his life and those of soldiers with him in Iraq.  "A few nights ago, we lost our first solider to hostile fire …" he writes.  "A friend of the soldier who died sought me out right after the incident.  We talked and prayed, and comforted each other.  When I finally got to my bunk that night, I played 'I Can Only Imagine' until the batteries ran out in my CD player. …"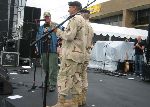 At a recent Tribute to Heroes at Ft. Hood, MercyMe had the opportunity to perform at the event which honored over 50,000 soldiers, some currently fighting in Iraq, including the troop which captured Saddam Hussein.  Afterward, the award-winning band spent time meeting the troops and signing CDs.  "Our experience at Ft. Hood was incredibly humbling," says lead singer Bart Millard.  " … we were able to meet many of the soldiers and their families, which to us was an honor, but when they would tell us how our music had helped them cope with all the death and loss around them, and to that effect even calling us heroes, well … that was too much to take."  MercyMe's latest project, "Undone," released last month on INO Records.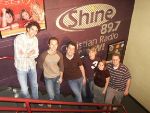 AND HAILING FROM THE GREAT WHITE NORTH … Sparrow Records' newest rock band on the roster, Starfield, saw their self-titled national debut hit store shelves this week.  Produced by Matt Bronlewee (Jars of Clay, Rebecca St. James, Natalie Imbruglia), "Starfield" is a propulsive mixture of big-sounding rock tunes meshed with introspective and worshipful lyrics.  The Kanuk quartet also scooped up the "Group of the Year" Vibe Award (Canada's equivalent to a GMA/Dove Award) recently and have seen first single "Filled with Your Glory" make it to No. 13 and climbing on the CRW CHR chart, Top 30 and climbing on the R&R CHR chart and listed as an AC and CHR Advancer on the CRW chart.  On a recent radio promotion tour (pictured above left), Starfield stopped by Olivet Nazarene University's WONU in Bourbannias, Ill. for a live morning interview with Music Director Mallory Dewees and Afternoon Drive Host Johnny Rock.