TODAY'S NEWS: Mark Schultz, Big Daddy Weave & Salvador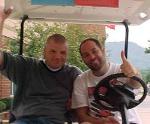 WHERE'S THE BRAKE?…Mark Schultz took WCQR Program Director Jason Sharp for a ride recently before a sold-out Mark Schultz/Big Daddy Weave concert in Johnson City, Tenn. The two cruised the concert venue in a golf cart before the show, stopping to chat with fans in an impromptu meet-and-greet session. No word on whether Mark really knows how to drive that thing, but he seemed to be having a good time. Or maybe he was just so happy to be sprung from the studio at last. Schultz had been logging long hours as he put the finishing touches on his fall release, "Stories and Songs," which is due in stores October 14.

IT'S GOOD TO BE ON TOP… Big Daddy Weave is enjoying the view from the top this week, with their tune "Audience of One" nabbing the top spot on Christian Radio & Retail Weekly's CHR chart. To top that off, Big Daddy Weave is also the top-selling band on its label, Fervent Records. The single is from the band's critically acclaimed 2002 debut, "One and Only," but there will be new music coming your way soon. Listen for the title cut from the band's upcoming sophomore project, "Fields of Grace," going for AC and CHR spins at the end of this week. Also, look for "Fields of Grace," produced by Big Daddy's own Jeremy Redmon and  Mike Weaver, on store shelves September 30, and catch them on tour this fall with FFH.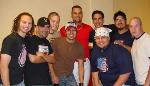 SALVADOR PLAYS BALL… Actually, it was the St. Louis Cardinals and the Pittsburgh Pirates who were playing ball.  Salvador was entertaining the crowd in a different way, the way they know best. The Texas-based band was completing a long weekend of concert dates, which brought them to St. Louis, Mo., so the Latin worship-rockers made a stop at Busch Stadium to join in the fun. Not only did they put on a post-game concert, but lead singer Nic Gonzalez sang the National Anthem for the 44,000-strong crowd of fans. Afterward, Salvador was invited into the Cardinals' locker room to hang out with the players, including Albert Puljos, a favorite to finish out the season as MVP.

Used by permission.  © 2003 Musicforce.com