TODAY'S NEWS: MWS & Sandtown, Sandi Patty, PC3, and more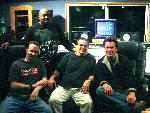 YOU GOTTA GIVE IT AWAY – Michael W. Smith gave of his time and his voice recently as he contributed vocals to a new version of U2's "Pride (In the Name of Love)".  The special rendition is part of Sandtown's Gotee Records debut, "Based on a True Story", hitting the streets on May 6.  The urban youth choir hails from Baltimore's "Sandtown" neighborhood -- an African American community who are rebuilding their neighborhood with a church, a chapter of Habitat for Humanity, a health center, a job development program, a brand new school, and a community music program which birthed Sandtown.  Pictured here in the renowned Nashville, Tenn. studio, The Sound Kitchen, are (l to r): Steve Smallman, Executive Director, New Song Arts (Sandtown's church music ministry); Alvin Richardson, Co-producer/Sandtown choir director; Steven V. Taylor, Co-producer; and Michael W. Smith.  Besides Smitty, other guest vocalists featured on the project include tobyMac, Out of Eden's Lisa Kimmey, and The Katinas. 

THAT'S SANDI WITH AN "I" – Double trouble.  Girls on the loose.  Patty and Pierce, together at last.  Oh there's all sorts of fun you can have with this one.  And we're pretty sure that GRAMMY and Dove Award-winning Sandi Patty and gold-selling comedienne Chonda Pierce will have lots of fun when they hit the road together this coming fall.  Before that tour, though, the dynamic duo will tape a two-hour television special in May to air later this year on TBN (Trinity Broadcasting Network).  Sandi will perform selections from her latest release, "Take Hold of Christ", while Chonda will interject her brand of humor in various comedy segments.  Stay tuned for tour dates and more info on the Patty and Pierce tour at www.sandipatty.com.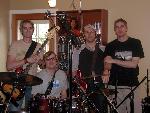 BACK TO ONE FOR DISC 2 – For their second Essential Records effort, "New Artist of the Year" Dove Award nominee Paul Colman Trio is going back to the studo for "One".  Produced by Brent Milligan (The Elms, David Crowder Band), "One" will hit a retailer near you this coming September.  And we're pleased to say that the Aussie trio isn't trying to reinvent themselves with polka praise or anything like that.  Just breathe a collective sigh of relief and expect more of the same PC3 signature high-energy vocals and catchy pop melodies.

GETTING CARRIED AWAY – You'll need to multiply your clapping efforts times two for Shane Barnard and Shane Everett this week.  Seems that last week, their sophomore release titled "Carry Away" debuted at No. 9 on SoundScan's "Top Christian Albums" chart.  Whoa nelly.  Over 7,100 copies were sold during release week, so give it up for the Shanes and be sure to listen for the first single, "Be Near" (produced by Newsboys lead singer Peter Furler), on a radio station near you ... right now!