TODAY'S NEWS: OneDay03, Donnie McClurkin and Skillet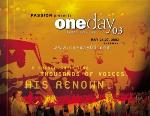 OPERATION STUDENT MOBILIZATION -- If it worked three years ago, it'll work even better in 2003, right?  That might be the thinking behind the "mobilization area" at next month's Passion Conferences' OneDay03 in Sherman, Texas.  During the May 24-27 weekend event which unites college-aged students for spiritual awakening in their generation, the mobilization area (located in the '"City Center" at the event) will offer attendees the opportunity to explore their options when it comes to world missions.  Staffed with "guides", the mobilization area will expose students to mission agencies, organizations, and ministries, as well as general mission awareness, the 10/40 Window and other unreached people groups.  As with OneDay2000, OneDay 2003 will also feature a bevy of speakers and musical guests, but they will not be announced prior to the weekend.  According to www.oneday03.com, it is the organization's "desire that the focus remain solely on the renown and glory of Christ and that students would gather together not for a specific band or speaker, but simply to unite together as a generation to pray and worship before the Living God."  Past worship participants at OneDay2000 included Matt Redman, Darwin Hobbs, and Sonicflood. 

IN CASE YOU MISSED HIM THE LAST TIME -- Back with "Donnie McClurkin … Again" last month on Verity Records, Donnie McClurkin is working his newest project on a media whirlwind in the coming weeks.  Actually starting tomorrow … when Donnie will appear on "The 700 Club".  Check your local listings for times and such for that one, as well as Donnie's appearance on CBS' "The Early Show" on Saturday morning, April 19.  More interviews include BET's "Lift Every Voice" (airs on Sundays), and an article in the May issue of Essence magazine which should be on newsstands right about now.  P.S.  If you're planning on catching "The 34th Annual Dove Awards" on PAX-TV this Saturday night at 9:00 p.m. E.D.T., be sure to listen for Donnie's duet with Yolanda Adams on the album's first single, "The Prayer" (it's the David Foster-penned mega hit recorded first by Celine Dion and Andrea Bocelli).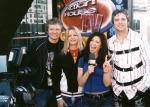 PREHEATING IS GOOD -- While Ardent Records rock band Skillet is cranking down the temp in the studio and wrapping up work on their follow-up to 2001's "Alien Youth," they've also made time to do some performing here and there.  At the recent Ardent Records Late Night Showcase at Gospel Music Association (GMA) Week in Nashville, Tenn., the band of four gave a sneak peek performance from their yet-to-be-titled album numero five.  And then over at the EMI Songwriter Showcase, front man John Cooper offered the songwriter's version of "Kill Me, Heal Me" from "Alien Youth."  The band's third consecutive No. 1 single, "Vapor," was also nominated for this year's "Hard Music Recorded Song" Dove Award.  Look for the new album to release late this year.  Pictured here at GMA Week during an interview with Action House TV are (l to r):  Skillet's Ben Kasica and Lori Peters, Action House TV's Sally Colon and Skillet's John Cooper.