TODAY'S NEWS: Photos from GMA Week 2003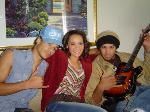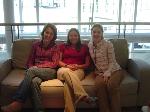 ALATHEA - Charming folk trio Alathea saw their Rocketown Records debut, "What Light Is All About," release this spring.  But the group does more than just sing, as chief songwriter Carrie Theobald recently completed the Chicago Marathon last fall in 4 hours 59 minutes. Kudos!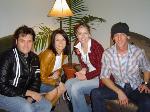 AVALON - After seven years together, what could possibly truly surprise Avalon?  How about an American Music Award this spring and being interviewed backstage by Paula Abdul for "Entertainment Tonight"!  "There are so few true surprises like that in life remembers group member Janna Long.  It's like time froze for us that night."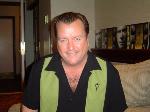 BOB CARLISLE - The man who brought us "Butterfly Kisses," Bob Carlisle revealed that his 25-year-old daughter is getting married this August.  But contrary to popular speculation, he won't be singing the famed No. 1 wedding tune at the nuptials.  "I'll be in the fetal position," he jokes.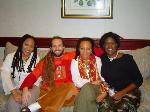 CHRISTAFARI - Needing a new phrase to spice up your vocabulary?  Try using "rock the locks" which Christafari's Mark Mohr verbalized when adjusting his dreads and posing for this pic after an interview.  Christafari's next project, "Gravity," drops this coming June.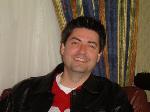 JOEL HANSON - What's the fastest time ever that it's taken for PFR's former front man Joel Hanson to write a song?  "Twenty-five minutes for 'Captured,'" he says.  But it only takes approximately three minutes to listen to the little ditty on Joel's first solo disc of the same name from 2000.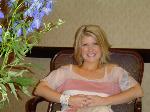 NATALIE GRANT - True love is out there.  And still relatively newlywed Natalie Grant knows it.  She sings "That's When I'll Give Up on Loving You" from her recent Curb Records project, "Deeper Life," specifically for her husband, producer/songwriter Bernie Herms - who she calls "the most selfless, giving man" and her "best friend."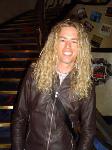 PHIL JOEL - The long-tressed bassist for Newsboys and solo artist in his own right ("Bring It On" is his latest disc on inpop Records), Phil Joel revealed that his 2 1/2 year old daughter, Phinley, recently said "I love you, Daddy" for the first time.  "She's very verbal for her age," Phil says.  The father of one also loves reading to his little blonde-haired tyke and taking her on walks around the neighborhood in her new red wagon.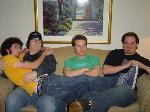 RADIAL ANGEL - We asked the Squint Entertainment rock band (their debut, "One More Last Time," just released last month) why they're known for their live shows.  Drummer Tommy Perkins piped up and said that he did used to "thrash a lot" on stage, but has since calmed it down.  So maybe it's just the charm and boyish good looks that draw the crowds these days.  They're still not sure.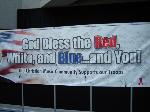 RED, WHITE & BLUE - You couldn't miss the patriotic banner when you walked in to the GMA Week registration area each day this week.  Sponsored by Absolute Records, the banner was signed by any -- and many -- in the Christian music industry as they passed to and fro each day.  One of Absolute's bands, Big Fat Jam, have been invited to Incirlik Air Force Base in Turkey where they'll deliver the 20-foot banner to the troops stationed there, right after GMA Week.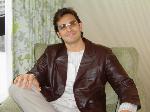 RODRIGO ESPINOZA - He's tall, he's talented, and he's married to Latin superstar, Yuri.  But you'll soon know the One Voice Records, Chilean-born artist Rodrigo Espinoza for his music - and his incredible testimony -- when his Spanish-language album, "Me Inundas," releases in the United States later this summer.  He's definitely one to watch.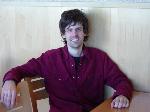 SHAUN GROVES - So enough about the hair already.  And the fact that Shaun's a little on the lean side.  He says he's ready to move beyond that now.  So his hair is kinder, gentler (less gel, no more spikes) and he's wearing a couple of layers now ("clothes that fit actually add some bulk as opposed to clothes that are baggy ... who knew?").  These are all good things to ponder while awaiting his Monroe Jones-produced, sophomore disc later this summer.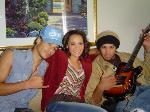 SOULJAHZ - The sibling trio of Jakob, Rachael, and Joshua Washington says the highlight of the past year had to be performing at "The One World Jam" in New York City's Radio City Music Hall -- alongside artists including Chicago, Nelly, Boyz II Men, Jah Rule, and many more legendary acts.  "We didn't even know why we were there," says Rachael.  "But it was a cool thing to be accepted in that realm."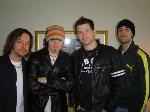 STRANGE CELEBRITY - Now that they've reached their long-time goal of becoming a rock band with a record deal, Strange Celebrity has a little advice for aspiring rockers out there.  "Go back to the source, to the roots of your musical influences -- not just to the hand-me-downs of that style.  Like Led Zeppelin.  They're musical influences were those guys who sit on the street corners and play the blues.  So go deep into the sound and pull out your influences."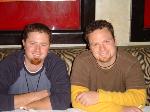 SHANE BARNARD & SHANE EVERETT - Dallas-based duo Shane Barnard and Shane Everett reached out and called upon the talents of Dallas-based Nichole Nordeman recently for their latest project "Carry Away".  And when asked if they'd work with her again, Shane Barnard offered, "Are you kidding?  Just put her on the cover.  And if she'd re-sing everything on the album, we'd love it.  She's an amazing person.  She's really, REALLY good."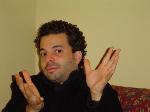 STEVEN DELOPOULOS - With the success of "My Big Fat Greek Wedding," it truly is "a great time to be Greek" surmises Steven Delopoulous, former front man for folk/rock act Burlap to Cashmere.  The singer/songwriter says his upcoming eb & flo Records solo debut, "Me Died Blue," was greatly influenced by his heritage and that he thoroughly enjoyed working with ... who else ... but producer Monroe Jones on the project.