TODAY'S NEWS: Plus One, Kristy Starling and Silers Bald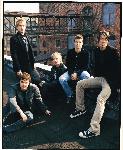 MINUS ONE, PLUS A LOT MORE – During the hubbub of Gospel Music Association (GMA) Week a couple weeks back – when all the Christian music world converges in Nashville, Tenn. for media ops, showcases, industry meetings, etc. – Plus One announced a line-up change, a label change, and a major change in management and booking.  For starters, the fivesome is now a foursome as former member Jason Perry left the group sans fanfare back in late 2002.  A new entertainment company and its label, InPop Records, have embraced the 2001 Dove Award winning "New Artist of the Year" and "look forward to this new chapter in Plus One's remarkable career," says Wes Campbell, a business partner along with Charlie Lico and Newsboys front man Peter Furler who lead the charge at 1-2-3 Entertainment and InPop.  A new manager, Teresa Davis of Paradigm Management who also manages KJ-52 and Mizzie, as well as a new booking agency, Jeff Roberts & Associates, round out the pop band's makeover.  Hairstyles and clothing are subject to change on a continuing, seasonal basis.  Look for a new studio project from Plus One later this year, as well as several key appearances at events including Promise Keepers and Xtreme Summer Conference.

STARS IN HER EYES – Even though she didn't win first place in NBC's "Today's Superstar" talent competition last fall, she has won a special place in the hearts of thousands of fans who voted for Kristy Starling.  Finishing in second place (only 1,100 votes behind the winner!), Starling was quickly signed to Warner Bros. Records Christian Division and ushered into the recording studio with the likes of über producers David Foster, Richard Marx, Billy Mann, Pete Kipley, and Dan Mukala.  Not too shabby.  You'll get to see and hear the fruits of that labor this Friday, April 25, when Starling returns to NBC's "The Today' Show" to perform two songs from her self-titled debut (hitting store shelves today).  If you can't wait 'til Friday, a mini-documentary featuring the many facets involved in becoming a star (record deal signing, photo shoot, visiting the record labe, recording the album) will air on "The Today Show" on Thursday morning, April 24.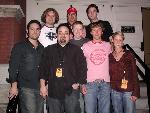 ROGAINE ... ANYONE?– Not quite sure about their name's origin just yet, but we do know that Silers Bald was signed to Essential Records recently.  The folk-rock band has long been on the radar of Caedmon's Call front man Cliff Young, who brought the Columbia, S.C. band to the attention of Essential's prez Robert Beeson.  The group has released four independent projects since 1997, toured alongside singer/songwriter Andrew Peterson, and their forthcoming major label debut is produced by noneother than labelmate and Caedmon's Call member Josh Moore.  Pictured here, after announcing their signing, and on the steps of Nashville's historic Ryman Auditorium during Gospel Music Association (GMA) Week are (l to r, top row): Shane Williams, Silers Bald; Bob Wholer, Essential Records vice president of A&R; and Marcus Myers, Silers Bald.  Bottom row includes (l to r): David Williams, Arch Music Group; Robert Beeson, Essential Records president; Warren Bazemore, Silers Bald; Jason Jacobs, Silers Bald; and Jordyn Thomas, Essential Records manager of A&R.