TODAY'S NEWS: Point of Grace, Combat Junkies and Superchick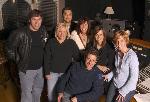 FAITH, HOPE AND LOVE…AND 24 HITS - Point of Grace is keeping that candle burning with their upcoming "24" – a two-disc project of … yep, you guessed it … the quartet's 24 consecutive No. 1 hits that they've racked up over their 10+ year career.  Group members Denise Jones, Shelley Breen, Heather Payne, and Terry Jones (pictured here in studio) have also penned their insights for each song in a special accompanying booklet, and a new song, "Day by Day", is also included with the other 24 tracks and released to radio.  A DVD, "24/7" will also be released and will include seven music videos from their No. 1 hits plus a special bonus track, "Begin with Me."  The fab four continues to stay busy with their "Girls of Grace" conferences for teen girls this spring, making stops in Little Rock, Ark., on April 4-5, 2003 and Kansas City, Mo., on April 25-26, 2003. 

NOT TO BE CONFUSED WITH COWBOYS – Hailing from Charlotte, N.C., hard rock band Combat Junkies is poised to kick it up a notch with their new CD, "Fight or Die … Time to Make the Choice", which just released on Steelroots Records.  In support of the punk/rock disc, the band of four are launching the "Headaches and Heartbreaks Tour" and heading to 30+ cities nationwide.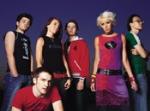 SHOP 'TIL YOU ROCK – Step away from those clearance racks and listen up.  Inpop Records' Superchick has inked a radio and TV ad campaign with national retailer J.C. Penney and will be featured in the new campaign kicking off Sunday, March 23, 2003 during the 75th Annual Academy Awards broadcast.  Lead singer Tricia Brock sings the store chain's slogan, "It's All Inside", as well as the Superchick song, "One Girl Revolution" in the spots.  Superchick has taken their revolution to other establishments as well, most recently MTV's "The Real World 2003" which used the band's "High School" and "I Belong to You".  Fashion mag "Marie Claire" has interviewed and photographed lead guitarist/vocalist Melissa Brock for a feature in their upcoming June issue.