TODAY'S NEWS: Rocketown Christmas CD, Ian Eskelin & More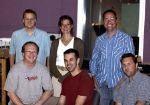 CHRISTMAS WITH THE VARIOUS ARTISTS … If it's getting closer to Christmas, then it must be time to roll-out all the "various artist" holiday projects from labels near, far, and under the stars.  And that's a good thing, as it means YOU, the consumer, have more options for your shopping dollar. 
Good news this season is that Rocketown Records is on the short list.  The dynamic little label, started by GRAMMY Award winner Michael W. Smith and former Reunion Records A&R chief Don Donahue back in '96, is offering "Gloria" on September 28 and will follow with tour support in 15 cities this coming December. 
Those who made the cut in the various artists line-up include:  Michael W. Smith, of course, and label mates Christine Dente, Ginny Owens, Shaun Groves, Alathea, Taylor Sorensen, Wayne Kirkpatrick, George Rowe, and Watermark, as well as newest signee Amy Stroup.  Friendly friends of the label who are contributing include Cindy Morgan, Steve Mason (Jars of Clay) and Amy Grant.  Wrangling the collective talent as producers are Runway Network's Charlie Peacock and Scott Dente, while the cover art was designed and painted by artist Jimmy Abegg, who's also credited for the artwork of Rocketown's very first various artists project in 1998, "Exodus."  All of the musicians on "Gloria" participated in community writing sessions earlier this year at Peacock's Art House studio and Kirkpatrick's Maple Room studio.  Pictured above in the studio (l to r) are:  (front row) Producer Charlie Peacock, producer Scott Dente, engineer Richie Biggs and (back row) Wayne Kirkpatrick, Amy Grant, Rocketown Records President Don Donahue.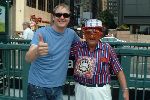 NEWS OF THE KINDA WEIRD … Not sure what to do with this bit o' information, so let's just lay it on out there:  Inpop Records artist Ian Eskelin has chosen a campaign manager to assist in his effort to become President of the United States.  Campaign headquarters are in Bucksnort, Tenn. (didn't make that up) and new manager "Stan" (pictured left in hat along with a thumbs-up Eskelin) will be responsible for all 2004 campaign operations.  "Although there weren't many options," Eskelin comments, "I just knew when I saw Stan that he was the man for the job."  Maybe there'll be more explanation on all things presidential on Eskelin's "Save the Humans" disc (his first solo effort in 10 years) which releases September 21.

Meanwhile, Sixpence None the Richer's Matt Slocum is keeping it galactic with his new band, Astronaut Pushers.  If you're in the Nashville, Tenn. area this Saturday, August 14, be sure to catch their next sighting at 12th and Porter when the doors open at 8:00 p.m. C.T.  For more info and to see the red version of this little astronaut guy who kinda looks like Speed Racer, click here. 

DIFFERENT KIND OF M&M'S … While it may be true that "chocolate is better in color," the attempted connection between M&M candies, Visionering/SHELTERecords recording artist Matt McGee and nonprofit organization Mission of Mercy just isn't going to work out as planned for this little blurb.  So, before you get too disappointed, let's just get on with the news. …
Next week, Matt McGee will travel to India on behalf of Mission of Mercy in order to experience firsthand the type of ministry and aid this humanitarian organization has provided for over 50 years in this country.  What's more, the 22-year-old worship leader will meet his sponsored child, Riya, for the very first time in West Bengal.  "I'm so excited to finally get to meet this little girl that I've been praying for," shares Matt, "and let her know how much she has invested in my life without even knowing it."  McGee will perform music, lead devotions, and spend time with children and adults helped through Mission of Mercy at various stops along the trek, including a 200-bed hospital, feeding lines on the streets of Calcutta, and clinics and schools.  "This trip is the chance of a lifetime," he says.  "I pray that with Mission of Mercy we can make a significant difference in the lives of these people."
On his return to the states, Matt will perform selections from his current project, "Worship Through the Valley," on the "Utour" along with artists downhere, Tree63 and By the Tree.  For more information about Matt, Mission of Mercy and tour dates, visit mattmcgee.net.