TODAY'S NEWS: Smokie Norful, Amazing Grace 3 & Sanctus Real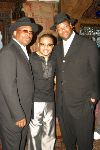 LIFE IS BEAUTIFUL … For Smokie Norful, life is looking pretty good right about now – especially since his gold-selling debut disc, "I Need You Now," released a year ago.  Since that time, the EMI Gospel artist has snagged three statuettes each from the Stellar Awards and the Gospel Music Excellence Awards, plus one GMA Music Award (a.k.a. Dove Award).  He was also named the "No. 1 Gospel Artist of 2003" by Billboard magazine and is nominated for "Best Gospel Artist" at the upcoming BET Awards on June 29 at Hollywood's famed Kodak Theatre.  Pictured above (l to r:  Terry Lewis, Norful, Jimmy "Jam" Harris) at the House of Blues in Los Angeles, Norful was honored earlier this month by the American Society of Young Musicians (ASYM).  The nonprofit organization of music and entertainment industry professionals is committed to nurturing young musicians and recognized Norful with its 2004 Favorite Gospel Artist Award at its 12th Annual Spring Benefit Concert & Awards. 
With no time to rest on his laurels, the gospel phenomenon plans a fall return with a follow-up album on October 5 featuring songs crafted by himself, and producers including George Duke, Cedric and Victor Caldwell, Alex Asaph Ward and Antonio Dixon.  "I can honestly say that this has been one of the most rewarding periods of my life – spiritually, personally, professionally," says Norful.  "And the new album is a testament of my continued commitment to carry my gospel message of hope into the world."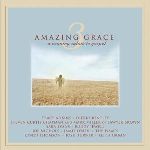 YOUR ROOTS ARE SHOWING … A star-studded list of country music's finest are showing their gospel roots on the latest installment of the "Amazing Grace" series from Sparrow Records.  Releasing today, "Amazing Grace 3:  A Country Salute to Gospel" features a heartwarming compilation of country-flavored gospel music from today's top artists in the genre:  Keith Urban, Buddy Jewell, Sara Evans, Jamie O'Neal, Joe Nichols, Cyndi Thomson, Josh Turner, Dierks Bentley, and The Isaacs.  Dropping in for a "kissing-cousin visit" from down the Christian music way is Steven Curtis Chapman, who joins in on a duet with good friend Mark Miller of Sawyer Brown on "Nothing But the Blood."  Other notables in the classic gospel collection include "'Tis So Sweet to Trust in Jesus," which Cyndi Thomson says she chose as "a thank you to Him" for giving her a voice and "Victory in Jesus" featuring Trace Adkins, who remembers standing by his grandfather in church and shares that "all I ever wanted to do was to sing like my grandfather."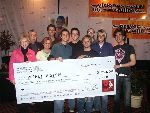 WHERE IS THE LOVE … Handing over a check for $75,000 to help fight the AIDS crisis in Africa made for one beautiful day for Sparrow Records rockers Sanctus Real, who presented the monies recently to World Vision at an event in Nashville, Tenn.  The donation is a portion of the proceeds from the Sparrow Records U2 tribute album, "In the Name of Love: Artists United for Africa," which released in January and features covers of U2 favorites from 13 Christian music artists, including Sanctus Real.  The funds have already fully paid for World Vision relief efforts in the Mwakankomba Village in Zambia, Africa, which has been devastated by the HIV/AIDS crisis.  The community is being provided with caregivers who will work with the infected, those at risk of infection and those left behind when loved ones die.  Also, AIDS prevention education for children and mentoring for orphans is planned to encourage them to stay in school, learn how to survive and thrive as adults. 
"What an honor to have helped the people of this village in Zambia and to spread the word about the efforts of World Vision in Africa," says Matt Hammitt, Sanctus Real lead vocalist.  "We are so grateful to have been chosen to be a part of this recording and look forward to the stories of hope it will generate."  Sanctus Real's rendition of "Beautiful Day" from the tribute album became their first No. 1 Rock R&R hit single.  Their current hit single, "Everything About You," is rapidly climbing the charts, landing at No. 5 and No. 25 this week on R&R's Rock and CHR charts respectively.  It is the first multi-format hit single from the band's highly anticipated sophomore project, "Fight the Tide," releasing this week on Sparrow Records.