TODAY'S NEWS: Third Day, Michael W. Smith, MercyMe & More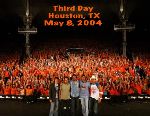 WIRED FOR SOUND … Third Day's not messing around the seventh time out of the studio, nosireebob.  The GRAMMY Award- and Dove Award-winning rock band saw its latest disc, "Wire," scan 61,106 units in its first week of sales since its May 4 release and a debut at No. 1 on Nielsen SoundScan's Top Christian Albums chart and Top Current Contemporary Christian chart.  "Wire" also snagged the No. 12 spot on Billboard's Top 200 Albums chart.  The success comes right on the heels of two Dove Awards at last month's GMA Music Awards:  one bird for "Long Form Music Video" for "Third Day Live in Concert, The Come Together Tour" and a second for "Praise and Worship Album" for the gold-selling "Offerings II – All I Have to Give."  Third Day is currently hitting the road on the 85-city Third Day Live tour with special guests tobyMac and Warren Barfield.  Pictured here (above left) at a stop in Houston last weekend, the band of five posed along with an audience of 11,000+ who just happened to be wearing the signature color of Third Day's fan club, "The Gomers." 

AFTER THE FIREWORKS … There's no need for post-July 4th doldrums this year, my friend.  Oh no.  Especially not when the "One Nation Tour" with Michael W. Smith, MercyMe and special guest David Crowder Band will be igniting hearts and minds with music and worship beginning July 9.  The 30+ city jaunt begins in Birmingham, Ala. and winds up August 22 in Charlotte, N.C.  "It's going to be great to be on the road again with the guys of MercyMe and David Crowder," shares Smith who just celebrated his 20-year anniversary in music last fall.  "My hope is that every night of this tour everyone, myself included, will be challenged in a new way."  For a complete list of tour dates and venues, surf on over to www.michaelwsmith.com, www.mercyme.org or www.davidcrowderband.com.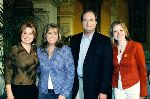 PHOTO OPS … Cross Driven Records recording artists Margaret Becker and Kelly Minter were recent guests on a segment of "goodnews!," hosted by Don and Cheryl Barber on FaithTV – part of the Sky Angel family on Tuesdays at 10 a.m. E.T./7 a.m. P.T.  Both representing World Vision, Margaret Becker spoke about the Christian humanitarian organization's new Orange Fund designated for the AIDS pandemic in Africa while Kelly shared about her recent WV trip to Africa.  For more information about World Vision's Orange Fund and the AIDS crisis in Africa, click here.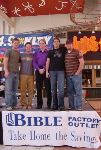 In another corner of the world, Shane Barnard and Shane Everett were "out to lunch" with over 2,000 fans at KLTY's Brown Bag Concert in Grapevine Mills mall in Dallas, Tex.  The hometown duo previewed songs from their upcoming June 1 Inpop Records disc, "Upstairs," which features six brand new songs along with fan favorites "Be Near", "Beauty for Ashes", "Psalm 14" and "The Answer" – all performed in a more intimate, acoustic setting.  Other bonus materials and goodies include over 20 minutes of never-before-seen live concert footage of the two Shanes, plus free chord charts for all songs on "Upstairs."  Get the full dish on all things Shane and Shane at www.waitingroomministries.com.