TODAY'S NEWS: Warren Barfield, Jill Paquette & More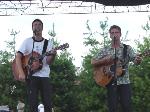 HOLDING OUT FOR A HERO… Imagine this: Your favorite artist in the world pulls you up on stage to join him or her in singing the song that changed your life. Now throw in the amazing twist that you're a budding young artist with a brand new record who gets to sing the song with your favorite artist on the exact day your own debut hits the stores! That's what happened to Warren Barfield who opened at a WAY-FM Brown Bag concert at The People's Church in Franklin, Tenn. this past Tuesday, August 5. His set was followed by his musical hero, Steven Curtis Chapman, whose video for "The Great Adventure" was the new kid's introduction to Christian music more than a decade ago. So it was only fitting that Chapman invited Barfield to join him in closing the set with "The Great Adventure," undoubtedly a dream come true for this boy from Spivey's Corner, N.C. Barfield's self-titled debut album — with SCC's influence all over it — is available now.

PAQUETTE MEETS CLAUDETTE… We've heard of taking the world by storm, but this is ridiculous. Jill Paquette recently hit the promo tour circuit in support of her self-titled debut, which released nationally on July 22. Off she flew to Ohio, Colorado, and Florida, and everything was going just fine. But in Houston, Texas, she met her biggest challenge since completing the album itself. Hurricane Claudette greeted her just in time for her KSBJ Brown Bag concert on July 15, moving the event and thinning the crowd. But Paquette took it all in stride, braving the elements. "No one really wants their first Brown Bag experience to be a 'wash,' but never did I think it would literally be a wash," she said. "Being from Canada, I had never experienced a hurricane and this was quite an adventure." Jill's first single "Lift My Eyes" is currently charging up the AC and CHR radio charts, so be sure to check it — and the album — out.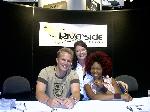 EBONY AND IVORY… There we were, tooling around the CBA Convention floor last month, when from the speaker system an amazingly powerful sound grabbed our ears. We wandered on over to a tiny little stage just in time to see a strange and wonderful sight. A beautiful, young black woman with burgundy hair and a pale, Scandinavian-looking young man making some of the most worshipful, soulful sounds we'd ever heard. Turns out it was Lisa McClendon and Dave Lubben, two new worship artists under the IntegrityMusic umbrella. Lubben's modern worship debut, "A Place Called Surrender," a collection that gets down to the nitty gritty of being in relationship with God, lands on August 12. McClendon's "Soul Music" (think Alicia Keys meets Yolanda Adams meets India.Arie) is slated for September 23. That's the two of them in the picture with Tina Edwards, of Riverside Distributors.

Used by permission. © 2003 Musicforce.com