TODAY'S NEWS: Warren Barfield, Superchick and Alathea
GET TO KNOW ME – His first disc on the Creative Trust Workshop label doesn't drop 'til August 5, but already singer/songwriter Warren Barfield is making friends and influencing people with his Southern charm and blend of acoustic rock/pop.  First single, "My Heart Goes Out," debuted last week at No. 25 on R&R's Christian Adult Contemporary Singles chart and is also being played by 23 stations around the country ... so it looks like the promotional tour the week prior paid off as Barfield did the meet 'n' greet with radio and retail in Houston, Dallas, Portland, Los Angeles, Chicago, and Tulsa.  "Meet Warren Barfield and you'll find a humble, polite, 'aw-shucks' nice guy," says Chuck Finney, director of programming for KLTY in Dallas/Ft. Worth.  "But when you see and hear him play, watch out!  He is a bundle of explosive energy ... and he's an incredible songwriter and awesome singer."  The amazing Barfield is now back in the studio wrapping up production with three-time Dove Award "Producer of the Year" Brown Bannister (Steven Curtis Chapman, Amy Grant) and Mark Hammond (Nichole Nordeman, Janna Long).  Later this summer, the singer/songwriter will perform at select music festivals, including the Gospel Music Association's Praise in the Rockies Sunday night concert on July 29, as well as Alive Fest and Fish Festival. 

DRIVE TIME – Hey, who wouldn't want to cram into a Winnebago with four strangers you just met and tour the world for two months while cameras are rolling in your face 24/7?  Well, the concept seems to keep on working, as MTV has coughed up the 12th season of it's popular "Road Rules"-- set this time in Fiji, Tahiti, and New Zealand.  Watch if your remote takes you there ... and if you do, listen closely and you'll hear inpop Records band Superchick singing the new theme song ("Road Rules") this time around.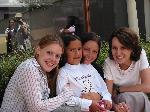 EVERYBODY'S DOING IT – If it's good enough for Michael W. Smith, Amy Grant, Geoff Moore, and GLAD, then it must be good enough for Alathea.  As child sponsors with Compassion International, the Rocketown Records folk trio are some of the latest artists from the Christian music community who have made the trek to visit their sponsored children, right where they live.  Alathea's Mandee Radford, Carrie Theobald, and Cristi Johnson recently spent time with 8-year-old Maritza Fernanda Rivera Llano during a week-long trip in Ecuador.  "We fell in love with the country, its people, and the work that Compassion is doing to show the immense love of Jesus for His children," says Cristi.  For information about child sponsorship through Compassion International, visit www.compassion.com.