TODAY'S NEWS: Watermark, Casting Crowns & The Swift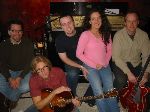 LIKE BRITA FOR THE EARS … 
Watermark's upcoming August 10 project, "The Purest Place" (Rocketown Records), is already getting some healthy thumbs up from industry insiders.  First radio single, "The Glory of Your Name," which was inspired after the husband/wife duo first saw Mel Gibson's "The Passion of the Christ" at a private screening last fall, is called "the best Watermark song yet" by KXOJ/Adonai Radio Group Program Director Bob Thornton.  Vocalist Christy Nockels comments, "These songs have brought us back to truth, to simplicity and to a renewed vision of who we are and what we're called to do."  "Overall, these songs are very Jesus focused," adds Nathan Nockels, who produced the 12 original songs on the couple's fourth project for Rocketown.  "They are songs of response to who God is and all that He has done in our lives through Jesus."  Pictured above in the studio (l to r) are:  drummer Trent Austin, electric guitarist Gary Burnette, Watermark's Nathan and Christy Nockels and bass player Pat Malone.

GOING FOR THE GOLD …The Olympic torch hasn't even made it to Athens yet this summer and Casting Crowns has already sprinted for the gold.  The Beach Street Records band's self-titled debut project was recently certified gold by the Recording Industry Association of America (RIAA).  Holding on to the status of "Christian music's fastest selling new artist for 2003 and 2004," Casting Crowns has also seen their second single, "Who Am I," maintain its No. 1 position on all Christian radio charts for a second week in a row.  Formed by front man Mark Hall four years ago during his tenure as a youth minister in Daytona Beach, Fla., Casting Crowns took only eight months to achieve gold status with their debut.  Hall also was recently awarded with the "Songwriter of the Year" at the 35th Annual GMA Music Awards for "If We Are the Body," the first single from "Casting Crowns."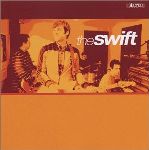 READY FOR "TODAY" … They're still about six weeks out from the release of their sophomore project, but pop-rock trio The Swift is already ready for "Today."  "We are really excited about where we are right now in our lives, with our music and in our ministry," says lead vocalist and pianist Britt Edwards.  "'Today' encompasses all of that, and is the culmination of everything that has gone on in our lives over the last two years … it's amazing to listen to this album and realize how much God has brought us through to get where we are today."  The piano-based trio of Edwards, Mike Simons (bass, vocals) and Trae Drose (drums) worked with producers Jason Burkham and Nathan Dantzler (Audio Adrenaline, Tree63) in creating 10 new songs – all but one of which are written by the band.  While "Today" doesn't release 'til July 24 on Flicker Records, first single "Alive in Love" has already gone for adds at CHR and AC radio.  For more information and for summer tour dates, click here.