Tonio K
Devlin Donaldson

1998

1 Dec

COMMENTS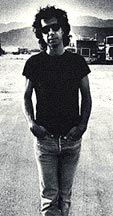 Steve Krikorian (aka Tonio K) made quite a critical splash in
Christian music
circles during the 1980s. His two albums were full of songs that were emotionally honest and contained lyrical wordplay that was sharp and clever, while the music was melodic, but unpredictable. For Tonio K, it started with and it always comes back to the songs.
I formed my first band after school one day when I was in the ninth grade. One guy was taking drum lessons on a snare he had rented from a music store. Another one of my friends had played a little bit of guitar. I played a conga drum and sang. We got together and pronounced ourselves a band on the spot.
Ks first real gig was a few years later. He had moved to L.A. where he had a production deal with a studio and was living in an old school bus behind the studio in North Hollywood. We were making a spec album for the guy who owned the studio who was then going to get us a deal. These guys, J.I. Allison, Sonny Curtis, and Glenn D. Hardin who were in the original Crickets (as in Buddy Holly and the Crickets) were in this room next to us in the studio and heard us. I wound up in the Crickets as the hot new singer-songwriter.
But the Crickets were a short lived experience that led to a publishing deal for K with Chappel / Intersong. I went and played a few things for a guy at Chappel / Intersong, Tonio K recalls. He turned off the tape and asked me what I wanted and made me a deal on the spot.
The publishing company got me a deal with Full Moon Records, continues K. That label had me and Dan Fogelberg on it (laughter). I released two albums with CBS, the first being Life In The Food Chain and the second, Amerika. Next came the EP, LaBamba, which was released on Capitol.
During those days Tonio K was misperceived as an L.A. punk troublemaker. Indeed he was a volatile performer. I smashed guitars. I used to cook pancakes on a griddle and occasionally throw them at the audience. It was a different time then, Mr. K says.
In spite of his miscast image troubles over the years, Tonio K has been a man of faith. I have always been a Christian, Says Tonio K. I used to go to Armenian Holy Trinity Church when I was a little boy. My mother tells me I wanted to be a priest when I was like 5 years old. I think because I like the capes and the hats. Which is probably why I liked James Brown so much later too (chuckles). In my teenage years I was more interested in James Brown and Dick Dale than the priesthood but I have always believed.
After LaBamba, Tonio K found himself without a recording deal. Through friends and a series of events Tonio K hooked up with Tom Willett of Myrrh Records who was in the formative stages of creating What? Records which was designed to create music that would appeal to both the Christian and mainstream markets.
The result of this relationship was the critically acclaimed project, ==Romeo Unchained==, which was followed by ==Notes From The Lost Civilization==. Romeo contained the songs Impressed and You Dont Belong Here which were later cut by Charlie Sexton. Romeo was made mostly of demos I made for the publishing company. They were quick synthesizer and guitar demos since that was an era when that was acceptable. I really liked the writing on Notes, continues Tonio K. I liked the sound of most of it. I like Executioners Song and Childrens Crusade was a good one, if I do say so myself.
The third album which was signed directly to A&M, leaving Word out of the picture. The project was shelved just as K and producers T-Bone Burnett and David Miner finished up their work.
After that album was shelved, Tonio K focused his energy on writing. In the last seven years he has written songs for many artists including Love Is which was performed by Vanessa Williams and was the most performed song of 1993. He has written songs for Batman Forever, Grace of My Heart, Beverly Hills 90210, Baywatch, and Melrose Place.
Currently, the entire Tonio K catalog (save LaBamba) has been re-released on Gadfly Records, including the lost album now titled Ole, which is a wonderful album for any Tonio K fans lingering around. And there are plans for releases of new material in the future. But for the foreseeable future Tonio K will focus on writing and recording. Id like to say they cant pay me enough to perform live. In actuality they wont pay me enough. But, thats ok. Writing is what I do. Its what I enjoy.