Top Worship Leaders Featured in Immerse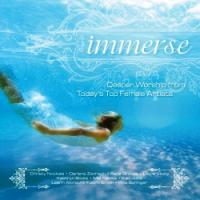 Artist: Various
Title: Immerse
Label: Integrity Music
It's actually a great idea: a collection of a dozen fresh worship tracks from some of the top female worship leaders of the day. Integrity gathered artists both long familiar (Darlene Zschech and Sara Groves) and introductory (Kari Jobe and Laura Story), and showcases their formidable talents on songs as new as today's calendar, for the most part.
The collection starts off powerfully with Jami Smith's guitar-driven rocker "Salt and Light," a la Sheryl Crow. Smith's guitar is as strong as her throaty vocal on this standout track. Kathryn Scott brings a bouncy pop vibe with "Everything Changes," and Vicky Beeching's breathy vocal shines on the melodic "Hallelujah What a Savior," notable also for its bluesy undertones.

There's a number of tracks that come across as thickly ambient, nice to find on a female-fronted project, including Hillsong's "Hosanna" and Mia Fieldes' "Sovereign Hands." Other tracks are more congregationally oriented, like the dramatic "At the Cross" from Darlene Zschech, and the string-heavy closer by Gateway Worship, "Pure." Christy Nockels' vocal is clear as the proverbial bell on "Be Still And Know," as is Sara Groves' quietly acoustic standout "Jesus You're Beautiful." Her vocal comes across as almost childlike in its simplicity and sincere adoration, riding a bed of rolling piano chords.
Rita Springer, on the other hand, tears it up in her usual inimitable style on the beat-driven "Rise Up," the full background vocals giving the rock-tinged track a great gospel feel. You'll find an impressive and satisfying variety on this pleasing project from the sistas, all of it leading directly to the throne.



© 2008 CMCentral.com. All rights reserved. Used with permission.




Visit CMCentral.com now and join the single largest online community of Christian music fans on the internet. CMCentral features daily music news, exclusive interviews, album reviews, weekly devotions and feature articles written by some of your favorite Christian artists, and much more. CMCentral is also the home of the most popular Forum for Christian music fans that you'll find anywhere on the Internet. Come see what all the buzz is about!

**This review first published April 7, 2008.