Touch - Music Review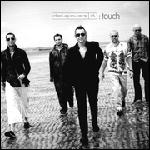 At this moment in music, several British acts are riding the crest of the proverbial "who's trendy now" wave both here in the United Sates and on the other side of the Atlantic.  Sensitive emo rockers Coldplay, singer-songwriter David Gray and no-introduction-needed The Rolling Stones have all, of late, released valiant efforts garnering critical acclaim.  It is, indeed, a good time to be English.
It seems fitting that in the midst of this latest British invasion, the Isle's best worship band, the decade-plus-old Delirious, would re-emerge with a new album to round out the pack.  But Delirious' fifth studio project, Touch, doesn't fall in neatly beside the other 50 worship albums you've probably already shelved this year.  Delirious has a sound that's original in the Christian market.
While the album doesn't break any new ground sonically, with its combo of Cutting Edge, sing-a-long friendly tunes as well as the inventive, aggressive textures of 1999's Mezzamorphis, Touch reinforces a sound all the band's own.  That's not such a bad thing.  The 10 tracks, from the piano-driven "Angel in Disguise " to the electric, Townshend-tinged riffs on "Show Me Heaven," further cement Delirious' well-deserved place in music.
Touch showcases Delirious' creativity this time around via song content.  In near-concept album style, the straightforward lyrics explore a basic theological concept that God and man are in a unique relationship, and that without His hand in man's life, life is futile.  Though lines like "You take me away to another place/ You show me a way to a higher grace…I'm seeing it all with a happy face" on "Take Me Away" beg for more original rhymes—which Delirious is well capable of penning—the final outcome is a Delirious mix of sound and lyrics well worth lending an ear.
 
Used by permission.  CCM Magazine © 2002  Click here to subscribe.