Transformation the Focus on Phil Joel's Third Solo Disc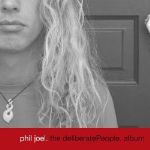 Artist:  Phil Joel
Title:  "the deliberatePeople album"
Label:  Indelible Creative Group
If you had to describe how your life had changed because of becoming a Christian, how would you explain the transformation? Is transformation even the right word?
For the apostle Paul, it was more than a transformation. He literally felt as though he had died only to be later granted a new life with a fresh start. All his sins had been forgiven and his past was washed clean. His lifestyle changed dramatically and while the direct effects in each of our lives may not be as significant or drastic, we cannot help but change when we encounter our savior.
Returning with his third solo release, Phil Joel, guitarist and vocalist for Newsboys, offers a very focused message of encouragement to follow after God and let Him transform your life. Leading off with "Time Alone," the album explains that spending time in the presence of God will have a positive effect on our lives. This thought is echoed in "Drown" which emphasizes our need to take the time to listen to God. Other topics covered on the album include running from and returning to God ("Drainpipe", "Return"), remaining faithful to God ("Jealous"), worship ("Awe"), and recognizing our need for God ("Desperate").
Sonically, "the deliberatePeople album" delivers a pretty potent mix of pop music and rock elements to match up with Joel's recognizable vocals. The production throughout the disc feels a lot more raw and untainted than his previous releases, leaving behind an honest musical quality and a vulnerable vocal track. Songs like "Drainpipe" and "Ordinary Day" leave the listener feeling as if they were almost a part of the recording, with a live feel and a warm tone. As far as the tempo is concerned, the album chugs along with a nice upbeat rhythm, providing the poppy punch that Newsboys fans have complained about missing over the past few years.
Though it was initially released and distributed independently over a year ago, "the deliberatePeople album" certainly doesn't feel like it's outdated or lacking in relevance. The soundtrack will provide listeners with a quick, but worthwhile venture in lighthearted and fun pop music while the lyrics offer a spiritual journey of sorts, drawing the audience into a closer walk with God. A very decent effort from Phil Joel, the album serves as a suitable continuation for his solo career as well as a purposeful mission statement.



© 2006 CMCentral.com.  All rights reserved.  Used with permission. 

Visit CMCentral.com now and join the single largest online community of Christian music fans on the internet.  CMCentral features  daily music news, exclusive interviews, album reviews, weekly devotions and feature articles written by some of your favorite Christian artists, and much more.  CMCentral is also the home of the most popular Forum for Christian music fans that you'll find anywhere on the Internet.  Come see what all the buzz is about!