Tricia's Second Solo Outing Radiates Hope
Lindsay Williams

Crosswalk.com Contributing Writer

2013

5 Aug

COMMENTS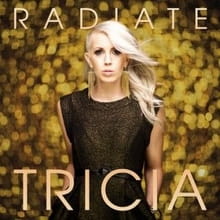 Artist: Tricia
Album: Radiate
Label: InPop Records
New mom and Superchick front woman Tricia Baumhardt surfaces with a shining new solo project that reads like a collection of letters to young girls, full of advice from a woman who's been there and done that. While her debut solo project, The Road, in 2011 exhibited a daintier, worshipful side to the well-known rocker, her sophomore release, Radiate, wears her pop sensibilities like a stylish, camera-ready red carpet look.
Perhaps it's the recent birth of her first daughter or her trek down the side-road of solo artistry, but Tricia's second outing is leaps and bounds beyond her beautiful debut. The chic pop on Radiate allows her personality to shine through, and her transparent lyrics unveil a refreshing vulnerability. Radiate is like a slumber party with close girlfriends complete with deep conversations, talk of boys, chick flicks and cookie dough.
The singable melodies of first cut "Everything As Loss" set the tone for the fun, upbeat ride ahead. The song captures the heart of Philippians 3:8, reminding listeners that everything is insignificant when compared to the often intangible riches of Christ. Songs like "Mirror Mirror" and "Enough" tackle timely topics like self-image and finding everything we need in the person of Jesus, with the latter showcasing one of the best radio-friendly choruses of the album.
The title track shimmers with nods to fashionable accessories ("glitter sparkle rain boots" and a "polka dot umbrella") and a lesson of looking for the rainbow in the midst of the rain. "Good to be a Girl" is party-worthy with its contagious drum beat and powerful message, sure to be a fan favorite when performed live. Tricia's ode to Cyndi Lauper, "Pity Party," is another sing-into-your-hairbrush retro track that conjures up sweatbands and side-ponytails.
While there's plenty of colorful, danceable moments, the honest lyrics emit a solid message of truth, as if Tricia is having a heart-to-heart with a room of teen girls. On "Daughter of the King," she tells them what true beauty looks like, singing, "Adress won't make a princess, and jewels won't make a queen/ You were made for more than this/ You're worth more than what you see." And on "Different," she pens one of her most insightful lyrics, worthy of quoting: "You can't make a difference without being different."
The album closes with the folky "Without You," containing an acoustic-guided vocal à la Francesca Battistelli. "What I Know" ends the album on a powerful piano-driven note, showcasing the surprising dexterity of Tricia's voice.
From top to bottom, Radiate sparkles with raw honesty and wisdom from one of the trendiest front women in Christian music. Tricia plays the role of the cool older sister, and young fans would be wise to heed her advice.
*This review first published 8/2/2013