Trin-i-tee's T57 a Shot in the Arm for Urban Gospel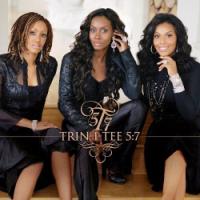 Artist: Trin-i-tee 5:7
Title: T57
Label: Spirit Rising/Music World
Trin-i-tee 5:7 never quite fit the mold of what a safe Christian R&B trio should be. Renegades at heart, they performed songs written by R. Kelly, had a thing for fashion, and maintained style that was sultrier than peers Mary Mary and Out of Eden. None of that has changed for T57, the girls' first album for Spirit Rising, an urban inspirational imprint headed by Mathew Knowles, the father of R&B superstar Beyoncé.
Knowles' previous forays into urban gospel were underwhelming—Ramiyah and Michelle Williams, anyone?—but his work was cut out for him with Trin-i-tee: Chanelle, Adrian and Angel are too much of an established presence to succumb to inspirational nonsense, opting instead for what they do best: combining passion for God with their day-to-day living.
The result is the trio's most accomplished album to date, a rhythmic delight that's equally soulful and spiritual. Whether they're singing about good times ("Listen," "Reflection"), their relationships ("Like U," "I Still Love You") or the Lord ("I Will Lift," "God's Triangle"), Trin-i-tee 5:7 never skips a beat. T57 is so hip and current, it's the shot in the arm urban gospel has been needing for some time.





© 2007 CCM Magazine. All rights reserved. Used with permission. Click here to try a free issue.