"Twilight" - Music Review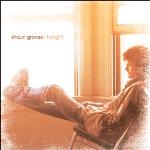 Artist:   Shaun Groves
Label:  Rocketown Records

Deftly written with brilliant vocals, Shaun Groves' sophomore album, "Twilight," proves that his critically acclaimed debut, "Invitation to Eavesdrop," certainly wasn't a fluke. In fact, when listening to Groves' latest offering, in many ways it's as if he picked up right where he left off two years ago.

Consider "Without You," written a week before the artist's first record was released. Dedicated to his wife, Becky, the song poignantly confesses that Groves is "only half a man" when he's away from her. Then there's "Jesus," an exquisitely simple ballad that reminds listeners to reach out to others with Christ's unconditional love. An equally beguiling track "God of Us" is the disc's purest worship hymn, providing a graceful reminder that God desires to be known.

If Groves establishes anything here, it's that he's dedicated to retaining his bent toward introspective pop/rock that is undeniably hopeful and refreshingly real. In times like these, that's a very good thing.

Copyright © 2003 CCM Magazine.  Used by permission.  All rights reserved.  Click here to subscribe.