"Twilight" Showcases Future of Forestry's Beauty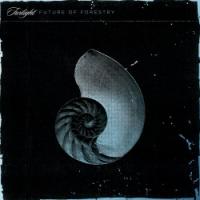 Artist: Future of Forestry
Title: "Twilight"
Label: Credential
There is an explosion of new bands coming on the scene, many influenced by U2 and Coldplay, each trying to find their place and develop a unique identity. Too many are just not original enough and don't have their own style, sound or story – which is exactly why you need to pay attention to "Twilight," the impressive debut from Future of Forestry.
The band does, as a matter of fact, sound like U2 and Coldplay at times, however, it is more of an influence here than copying the sound. And, Future of Forestry really sets itself apart with amazing songwriting and lush orchestration.
Front man Eric Owyoung studied classical orchestration and conducting at Boston University, and it really shows in these beautiful compositions. He and bandmates Nick Maybury (guitar), Luke Floeter (bass) and Spencer Kim (drums) have put together an album that appeals to the MTV rock crowd with alternative rock and pop influences, yet is set apart largely by the production of Ken Andrews (Mae, Pete Yorn, Failure). Andrews has worked on records by Copeland and Beck, and it shows here. But, ironically, it's what the band added on its own that makes this record rise above most.
Once the basic tracks were finished, the band took them home for two months and added tons of weird sounds to bring out the full, orchestrated feel. This is really evident in two of the best tracks, "Open Wide" and "If You Find Her," where great melodies meet cool rock guitars and brilliant orchestration. My only complaint is that, at times, this great writing and production is brought down a bit by the overused ringing guitar style of U2's The Edge.
Future of Forestry is about beauty. From their name – taken from a C.S. Lewis poem – to the deeply personal lyrics. On the track "All I Want," Eric sings, "I will go where mercy meets the shame/I will go where strength will find the small and meek." These songs talk about where he has been with emotion that will pull you in and provide insight and hope. The band's emotive energy fuses this hope with a gorgeous arrangement of melodies and sounds that will leave you wanting more.


© 2007 CCM Magazine. All rights reserved. Used with permission. Click here to subscribe.
See Future of Forestry music videos at Godtube.com today!