Two Decades Down - Charlie Peacock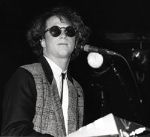 This month we celebrate  Charlie Peacock's 20th anniversary as a solo artist. "Lie Down in the Grass" (EXIT/A&M) served as his potent calling card those many years ago, leading  CCM Magazine to respond accordingly: "In this powerful solo debut … Charlie Peacock forays into musical territory until now unexplored by Christian musicians." (June, 1984)
This adventurous approach would come to define Peacock's career as both a recording artist and a producer. And make no mistake, his daring conviction enhanced his lyrics as well as his music. As one fan in Boise, Idaho, recently told CCM, "It was Charlie's 1991 album "Love Life" (Sparrow) that changed my perspective on what Christian music should be about. I realized that Christian music should be relevant and honest concerning any topic, not just our relationship to our Savior."
As a producer Peacock's diverse resumé includes Switchfoot, Nichole Nordeman, 77s, Avalon, The Choir, Al Green, Twila Paris and Sarah Masen, among others. It's no surprise he was first to be named the  Gospel Music Association's "Producer of the Year" three times. To kick off our 20th anniversary tribute to Peacock, CCM Magazine has invited Douglas Kaine McKelvey to write a special salutatorial. McKelvey has been a fan since the beginning and eventually went on to become Peacock's primary songwriting partner.
I don't know what the name Charlie Peacock means to 18-year-olds today. But I know what it meant 20 years ago.
That was back when most of us hardcore Christian music aficionados knew only how to play defense. The bulk of our energy was expended in simply defending the music we listened to. As for penetrating and transforming the larger culture or creating artistry with any viability and relevance outside our own little backwaters, forget it. Those things weren't even on the radar yet.
Then came the summer of 1984 and with it a new EXIT Records artist from Yuba City, Calif., named Charlie Peacock. He hadn't been a Christian long enough to absorb the clichés or adopt the classic defensive posture. He was naïve enough to operate on the assumption that if you made enticing, invigorating, lyrical, imagistic, great art, people would connect.
Charlie's jazz-influenced, new wave EXIT debut, "Lie Down in the Grass," was hip without desperately wanting to be. It was original. It was weighted toward the prow, leaning into the cultural conversation. Lyrically, it seemed to represent a faith that was worn very humanly, both in the secular marketplace and in the Christian subculture. People inside and outside the church found something that resonated with them.
The rest of us took a long look at this odd bird, scratched our heads and managed a profound, "Oh." The old defensiveness suddenly looked a lot less defensible when viewed against this new paradigm of honest, cultural engagement. The next couple years saw Charlie sign a music publishing deal with CBS, record for labels A&M and Island, land a cut on the hit TV show "Fame" and write, tour and hobnob with '80s headliners such as the FIXX, Bourgeois Tagg, General Public, Let's Active and Missing Persons. His early career was marked by the creation of art that was emotional, compelling and varied and by a conscious attempt to dismantle the barrier between artist and audience.
Following the critical success of his self-titled Island project, Charlie independently released the three-volume "West Coast Diaries" collections. It was a bold move. The "Diaries" were stripped down, barely produced, sometimes even incomplete recordings. But the unique relationship Charlie had cultivated with his fans allowed for that kind of intimacy. In fact, his fans had come to expect it. The inviting openness and confessional candor Charlie displayed onstage had become a magnet for young believers disenchanted by white-washed expressions of Christianity.
In 1990, spurred by a growing desire to serve the body of Christ in a deeper and more intentional way, Charlie moved his family to Nashville and signed a deal with Sparrow Records. Brown Bannister (Amy Grant) produced "The Secret of Time," a project that put the final polish on a few "West Coast Diaries" favorites, and that gave Charlie an expanded platform in churches and in the Christian music community.
It was during that time, too, that Charlie and his wife, Andi, purchased and began renovating a 100-year-old church building. Their dream was to provide a center for hospitality, biblical study and a shared journey with other believers intent on living life artfully. In those quarters the Art House was born, an entity still vibrant today, hosting authors, teachers, studies, concerts and even the occasional luminary like Mel Gibson or U2's Bono.
Charlie continued to record his own visionary projects over the next several years ("Love Life", "Coram Deo I & II", "Everything That's On My Mind", "Strangelanguage" and "Kingdom Come"), but his preferred role shifted increasingly to that of producer and mentor for younger writers, producers, bands and artists. Charlie's desire to prepare the next generation for the work of being "salt and light" in the culture eventually culminated in the formation of his own record label, re:think (best known for the discovery and development of modern rock sensation Switchfoot and folk artist Sarah Masen).
His songwriter and producer credits during that era grew too numerous to list, but they include more than 200 cuts, dozens of hits such as "In the Light" and "Every Heartbeat," 14 BMI Awards, nine Dove Awards, one GRAMMY award and numerous nominations. Along the way Charlie waded into more diverse waters as well, authoring the thought-provoking book "At the Crossroads," working on a masters in theological studies at Covenant Seminary in St. Louis, Mo., recording an experimental jazz project titled "Love Press Ex-Curio," accepting a post as principal artist faculty of the Wheaton Conservatory of Music International Improvisational Institute and traveling extensively as a lecturer on subjects related to Christianity and artful living.
His new projects are "Full Circle," a retrospective recording that reinvents his best-loved songs with the help of friends such as Sixpence None the Richer, Jon and Tim Foreman (Switchfoot), tobyMac and Sara Groves and "New Way to Be Human," a Waterbrook Press book that explores what it means to be a student/follower of Jesus. Both are potent distillations of Charlie's two-decades-old commitment to simultaneously nurture the body of Christ and engage the culture.
And while the resumé is impressive, the real story of Peacock's legacy is in the relationships. I'm convinced that Charlie's underlying secret is in the way he's able to turn fans into friends and ideological opponents into curious questioners. The same intelligent honesty, experimental creativity and personal integrity that launched his career in 1984 continue to expand his reach and impact today.
It's not every Christian artist, after all, who finds himself or herself contributing commentary and opinion to NPR's "All Things Considered," "Talk of the Nation," USA Today, CCM Magazine and the Wall Street Journal. One man gets around, indeed.
The Truth About Charlie
Amy Grant:  "I first had the chance to work with Charlie when he wrote the song "Every Heartbeat" for the "Heart in Motion" album. Brown Bannister was specifically looking for a fun, upbeat shuffle and, no surprise, Charlie delivered. "Every Heartbeat" is a song I still enjoy singing. Charlie and Andi have provided a homebase for a large community of Christian artists here in Nashville. If there is to be a gathering of any kind, whether it's for the screening of "The Passion of the Christ" with director, Mel Gibson, or a "think session" with Bono over the AIDS in Africa crisis, Charlie is available and willing to facilitate gatherings for prayer, for entertainment, for learning. His heart for service and his amazing life partner, Andi – along with her gifts for caring and communication – have been welcomed 'glue' for our community of artists in this town."
tobyMac:  "I've always had a huge amount of respect for Charlie and his desire to expand God's Kingdom. As an artist and songwriter, he has been a groundbreaker in seeing and celebrating the gospel in all of life, including romance. Not only have I recorded his songs, but at our wedding my wife and I chose his song "One Thing" as a backdrop to our first dance. Thanks, Charlie."
Bart Millard, MercyMe:  "The first time I heard Charlie was when I saw an "unplugged" performance with Vince Ebo and Jimmy Abegg. It absolutely changed my life! His music was, and still is, so unique and passionate. Not only did his music make an impact on my life, but the times I have heard him speak during his performances played a huge role in me surrendering to the ministry."
Nichole Nordeman: "There will always be great singers. There will always be great writers. There will always be great players. There will always be great producers. But great visionaries are scarce and seldom ... a gift not to be squandered. Thank you, Charlie, for leading us over each new hill."
Jon Foreman, Switchfoot:  "Charlie's place will always be a second home for me. I've learned so much about making music at Charlie's side. However, one of the most important things he taught me has nothing to do with sounds or lyrics. He told me that 'relationships will always matter more than the music. Twenty years from now your platinum albums or radio hits will mean very little. Always live with the families and friendships in mind.' So true. I've admired Charlie for as long as I've known him. Whether in the studio or in the kitchen, he was the type of guy that you wanted to emulate. I hope to be a Charlie in the San Diego scene."
Phil Keaggy:  "I have always appreciated the creative mind and heart of Charlie Peacock. Especially since 1989, the year I moved to Nashville, Charlie has been a constant light in this beautiful thing called music. I am also glad to hear the best in him come alive in these new days of artistic freedom."
Jody McBrayer, Avalon:  "We started our adventure into the industry with Charlie Peacock at the creative helm. Little did we all know that on that journey he would grow to become so much more in our lives. Insecure and uneducated as to how this world works, Charlie took us under his wing and helped us understand what true artistry as a Christian musician is all about. His desire to use his gifting to further the cause of Christ as well as his deep commitment to pursue spiritual and artistic integrity in his work is, to say the least, inspiring. He has been to Avalon the purest example of conviction, integrity and, most of all, patience. Avalon would like to congratulate and thank Charlie for all he has done to creatively communicate the gospel of Christ over the past 20 years."
Matt Slocum, co-founder of Sixpence None the Richer:  "Charlie has been a true inspiration and example to me in so many areas. I would do well to emulate his excellence and integrity as a writer, performer, producer, arranger, thinker and, most importantly, friend."
Sara Groves: "I like a lot of things about Charlie Peacock, but my favorite thing is his joy. It pours out into his music, production, writing and friendships. He is preoccupied with the Kingdom, how it works and how it is meant to come to us and because of this, his books, his music and his life are full of fruit and clues about Kingdom living. Charlie and Andi have inspired Troy and me in our hearts and home."
Steve Taylor:  "In 1984 I entered the back door of the Country Club, a rock club in Southern California. Charlie was playing keyboards with the Sacramento band Vector, and they were sound checking. I'd never met them before, and there's no reason for me to remember that moment except one: They were good. Very good. So many of the bands we'd share the stage with during that era confused sincerity with musicality, but these guys were sincere and musical. When I got to the dressing room, my band was already discussing in hushed tones how good the other band was. After a year on the road, I believe this was the first time that had happened. The net effect? I hit the stage that night feeling a tiny bit intimidated. If we played a good show (and my recollection is that we did), it was because Charlie and Vector raised the bar. Twenty years later, Charlie's still raising that bar. And I'm still a tiny bit intimidated."
Mike Roe, 77s:  "I became a huge fan when I got to work with him up close and see what he was really up to. There was certainly a lot of imagination and skill. I especially liked what he 'left out' as much as what he 'put in.' He was always willing to take a risk rather than just play it safe and do the obvious. I really learned a lot from Charlie."
Jen Waters, features writer, The Washington Times:  "My oldest memory of Charlie Peacock is reading articles about him in CCM Magazine in my teen years. I probably still have some of the interviews buried in my closet somewhere. I also remember my youth group dancing to "In the Light," even before dc talk covered it. I have always been impressed with Charlie's clear thinking and the ways he has challenged the Christian music community to be stronger, more daring artists. And I love the fact that he lives in a renovated church!"
Darwin Hobbs:  "Charlie is the reason I am a label artist. While a session singer in
Nashville, Tenn., he encouraged me to pursue my God-given destiny to record solo records."
Margaret Becker:  "Long before he was in this industry, I appreciated his music, and he's been a leader wherever he is placed. I appreciate, above all things, his sensitivity to that role."
Jamie Drummond, executive director of DATA:  "On behalf of the DATA staff, we want to applaud Charlie Peacock not only for his fantastic career in the music industry but also for his commitment to social justice. Charlie talks about the "wind of the Spirit" moving across America to capture the hearts and minds of evangelicals to combat HIV/AIDS in Africa. We appreciate Charlie for being at the forefront of this movement to galvanize awareness and promote advocacy for those suffering from AIDS. His work has been instrumental for us, the church and Africa. Thank you, Charlie, for your music and your life. God bless you."
Brent Bourgeois, solo artist/co-founder of Bourgeois Tagg:  "Charlie and I go back to the days when neither of us had much conception of what it was like to be living a healthy or spiritual life. Nonetheless, even in those days, we were both making challenging, creative music. When Charlie got sober and then saved, he sent shockwaves through our community that have consequences to this day, not the least of which was in me. I give Charlie the credit for being the light which led me to Christ, which in my mind is a far more important thing than any or all of the innumerable musical contributions that he is properly credited for."
Jimmy Abegg, guitarist/painter/art czar, Rocketown Records:  "I spent seven or eight years in many different musical configurations, playing guitar and learning from Charlie – someone whose take on the things of faith and creativity inspire me to this day. I'm grateful God introduced Charlie and me."
Scott Denté, Out of the Grey:  "One day in 1989 a friend handed me a pre-release cassette of "The Secret of Time," and the course of my life was changed. Over the last 14 years Charlie and I have written, recorded, traveled and shared many meals together. I learned more in a couple of years making records with Charlie than in five years of music college. But more than that, through his friendship and deep, deep heart he has shown me Jesus."

To read more tributes to Charlie, visit CCMmagazine.com.

© 2004 CCM Magazine.  All rights reserved.  Used with permission.  Click here to subscribe.