Two Lefts Don't Make a Right - Music Review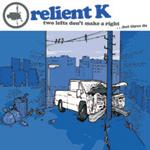 Artist: Relient K
Label: Gotee Records
Few Christian bands succeed at fusing catchy, alternative rock with witty satire. Fire Iron Frenzy immediately comes to mind, but arguably no other provocateurs of parody outclass the zany guys of Relient K. Need proof? Look no further than the moniker of the quartet's latest project, Two Lefts Don't Make a Right (But Three Do).
Even more cagey, though, are the 14 upbeat numbers found on this expressive, pop/punk-soaked disc. Much like the group's sophomore release, The Anatomy of the Tongue in Cheek, this album erupts with rousing melodies, infectious hooks and sing-along style choruses. True to form, the band offers wry commentary on random subjects like mobile phones ("I regret that I'm completely out of daytime minutes"); the '80s ("My favorite band will always be Tears For Fears"); and college life ("Sell all my books for front row tickets to Dave Matthews Band").
But most striking is a display of lyrical maturity not showcased in Relient K's previous material. Consider "I Am Understood," a song of thankfulness to God for His unconditional love, beautifully expressed in verses like, "Your voice has broken my defense/Let me embrace salvation." With eloquence like that, it's easy to look beyond the banter and find spiritual substance.

Used by permission. CCM Magazine © 2003 Click here to subscribe.
Check out Reliant K music videos at Godtube.com.