Two Years Later, Chris Rice Resurfaces With "Amusing"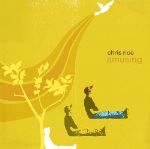 Artist:  Chris Rice
Title:  "Amusing"
Label:  INO/Eb+Flo
The career of Chris Rice has been filled with one ambitious offering after another. After debuting with the folk-focused "Deep Enough to Dream" as Rocketown Records' inaugural artist, the singer/songwriter crafted a trio of hit-laden albums while maintaining his storytelling integrity.
Along the way, he also composed an instrumental hymns recording, a wordless Christmas collection, a greatest hits compilation, and most recently, a live rarities package. "Amusing" comes after a two-year absence from all original material and features 11 cuts Rice says are "about my faith, about falling in love and about my usual themes of time, nature and longing for heaven."
It's clear what emotion he's speaking of on "When Did You Fall," a playfully romantic track that centers around God's matchmaking ability. Its precursor, "Love Like Crazy," is even more enthralling, providing the most noticeable stretch of stylistic evolution, incorporating jazz, soul and gospel flourishes with the guitar-playing talents of Duane Eddy (better known as "The King of Twang"). The guest's showmanship on that track and the instrumental "Prelude" brilliantly combine with Rice's cozy finger picking and charismatic presence.
However, piano is still present in ample amounts, including the textbook ballads "The Final Move" and "Sleepyhead Sun" that follow the descriptive tradition of Rice-penned classics "Welcome to Our World" and "Go Light Your World." And no one will be able to overlook the dreamy "I See the Moon," a touching depiction that addresses his wonder surrounding God's creation of the universe.
As if these examples didn't allot enough value to the project, the special Dual Disc pressing includes "In the Studio" and "Making the Record" segments. Such additional insight enhances Rice's latest expositions, steeped in continually maturing beliefs and the amusement that can rise out of life's simplest pleasures.

© 2005 CCM Magazine.  All rights reserved.  Used with permission.  Click here to subscribe.