Underoath Stays True to Heavy, Brutal Sounds on "Line"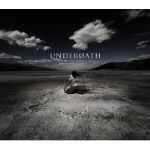 Artist:  Underoath
Title:  "Define the Great Line"
Label:  Solid State
It's trendy and cool to like Underoath these days, but the band seems willing to test that "easy" devotion with a decidedly heavy album.

Yes, there are bright and catchy guitars, big sing-along choruses and ear-pleasing keyboard sounds aplenty; but the rough and rowdy screaming vocals tend to dominate the emotive ones. No, Underoath has not really changed its sound; it's just that the band hasn't bent its ear towards the successful Matchbook Romances and Taking Back Sundays of the world and followed suit with a sonic mix that weighs in more with melody than distortion and riffage.
You couldn't have blamed Underoath if it went a softer route to gain more radio airplay, but the band stayed true to the heavy and brutal sounds that flavor its world and, in doing so, has probably delivered an album that'll top its predecessor, "They're Only Chasing Safety," in popularity, sales and adoration. But what Underoath has really done is topped itself with an engaging, high quality album that will earn all the accolades that'll come its way.
The band's first single, "Writing on the Walls," is not too unlike "It's a Dangerous Business Walking Out Your Front Door" in that it'll have you singing along to a speedy chorus and anticipating each unique fill and accent as it squeezes the emotion out of a story of well-intended conversation like the juice from one of Underoath's native Florida oranges. And then it, too, ends with a haunting refrain of layered vocals.
Co-producers Matt Goldman (Copeland, Third Day, Anberlin) and Adam Dutkiewicz (Unearth, August Burns Red, The Agony Scene) helped the band expand its sound. Goldman, who founded Blue Man Group, worked with Underoath's rhythm section, spearheaded by wonder-drummer (and part-time vocalist) Aaron Gillespie, to create a very thick and solid low end. Dutkiewicz, who plays guitar for Killswitch Engage, coaxed Tim McTague and James Smith to use E-bows and actual violin bows and to experiment with various delays and effects pedals.
The self-indulgent moments of this album are so darn enjoyable that there's no disconnect between band and audience as Underoath wanders into an extended jam that begins "Casting Such a Thin Shadow," ticking off about 3 minutes and 50 seconds before the vocals come in. This kind of experimentation usually pushes the listener's patience beyond normally acceptable tolerance levels, but it actually works here quite well. It'll be amazing to see this stuff performed live.


© 2006 CCM Magazine.  All rights reserved.  Used with permission.   Click here to subscribe.