Unspoken Emotions Surface in Bebo Norman's Ocean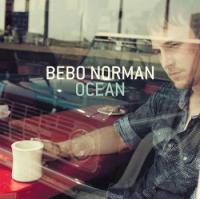 Artist: Bebo Norman
Title: Ocean
Label: BEC Recordings

Bebo Norman puts words to unspoken emotions on Ocean …

Singer/songwriter Bebo Norman has the rare gift of being able to articulate emotions and wonderings that most people don't even realize they possess until they hear one of his songs and are struck by the raw beauty of his lyrics. Norman's latest release, Ocean, is a stunning collection of songs that does just this. Norman is a poet, and we are the gracious beneficiaries of his art.

While there are a few songs that are more up-tempo, the majority of Ocean is void of the pop beats and sonic production found on his last self-titled project. Instead, Ocean hearkens back to the simplicity of Norman's debut when his soulful voice and guitar were the elements that tugged listeners' heartstrings.

The quietness of this album allows listeners to bask fully in the power of the lyrics and Norman's penchant for turning a phrase. In the worshipful "God of My Everything" Norman declares: "Oh God of heaven come and hem me in/Gather the pieces that are broken/Show me the wonder of You again."

Acoustic cuts "Could You Ever Look At Me" and "The Middle" are raw, thoughtful tracks that will leave the listener hitting repeat again and again because of the honest reflections found within. "Could You Ever Look At Me" depicts the way Norman's wife lovingly looks at the ocean and the sunrise and describes his realization that this is how she best enjoys her Creator. "The Middle" poignantly describes the way a mother feels when her children are grown and have left home for the first time, leaving her to rediscover her purpose and meaning in life outside her children.

The title track is a lush opus asking God's love to wash over the singer. First single "Here Goes" and "I Hope You See Jesus" find Norman collaborating with Brandon Heath and Laura Story, respectively. The lines of "Here Goes" find Norman and Heath at their best: "Never lost and never found are one in the same," while his co-write with Story is a hit made for CCM radio if there ever was one, hitting at the heart of the purpose of Christianity.

Norman is an expert word-painter, and the visuals on Ocean are extremely vivid. For those who appreciate a good turn of phrase and are drawn to the artistic, Norman's latest is a must.


**This review first published on September 30, 2010.
Watch the latest Bebo Norman music videos on his official Godtube.com artist page!