The World Is Waking Should Not Go Unheard
Ed Cardinal

Crosswalk.com Contributing Writer

2013

13 Aug

COMMENTS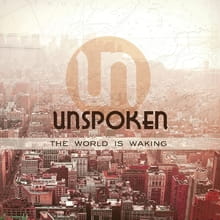 Artist: Unspoken
Title: The World Is Waking
Label: Centricity Music

You may not know Unspoken by name just yet, but consider all the talent surrounding the band's full-length album, The World Is Waking. Young guns Seth Mosley (Newsboys, Sanctus Real) and Jason Walker (Audio Adrenaline 2.0) split production duties on the project, and veteran executive producer John Mays is the guy who signed Matt Redman and Nichole Nordeman to their first major label deals. In all this good company we find a really well-done pop/rock record with an underlying worship sensibility.

Unspoken possesses a fresh element of diversity; its members hail from Maine, the Dominican Republic, and Puerto Rico. There's also an authenticity in what might otherwise be construed as run-of-the-mill messages, knowing singer Chad Mattson has overcome serious addiction issues. When he sings, You brought me this far, so why would I question you now? on radio anthem "Lift My Life Up" and soars into surrendering falsetto, a true story fuels that emotional delivery.

The rockier "Everything" could make another strong single and showcases especially cool electric guitar and bass interplay, and the line If I only have your love, I have everything is indeed simply profound. "In Your Hands" is blue-eyed soul that additionally mixes in classic and modern influences from The Beatles to John Mayer. Blatant pop hooks also shine through on "Run to You" (When I fall on my face, I fall on Your grace) and sweetly piano-infused, gospel tinged "Walking Away" (I'm walking away from the trouble, walking away on the double).

Mid-tempo ballad "Just to Get to Me" best reveals the vocal similarities between Mattson and popular singer/songwriter Gavin DeGraw. The song's observation of how God will sometimes shatter dreams just to get to me is rich food for thought. Retro-funky "You've Got Love for Me" is fun and deserves favorable comparison to the musical strengths of Maroon 5.

Do an online search for Unspoken, and you're likely to come across the guys performing "Bury the Workmen," the far and away standout track on The World Is Waking that is drenched in bluesy harmonica, old time religion stomping and clapping, and straight-from-Scripture accounts of Bible characters who faced persecution. It sticks to the bones, and like most of what Unspoken offers here, should not go unheard.
*This Review First Published 8/13/2013