Until June's Debut Issues Love Songs in a Piano Key
Brian Quincy Newcomb

CCM Magazine

2007

7 May

COMMENTS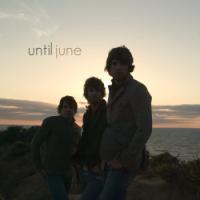 Artist: Until June
Title: Until June
Label: Flicker/Sony
In the guitar-dominant world of modern pop and rock, piano-centric bands find a strange connection that has little to do with format or content. Such it is for Until June, a trio of Phoenix natives that traveled to L.A. to make or break it, landing the deal that launched this debut.
Their music—which will be distributed exclusively to the general market—will rightfully be compared to Ben Folds, Something Corporate, Keane, Coldplay and others simply because the music revolves and draws focus from the piano of Josh Ballard and his bright-voiced love song melodies.
These simple song structures prove accessible and appealing, emphasizing hook-driven choruses and lyrics that describe the plaintive longings for love that seem everywhere in our youth and romance-focused culture. On the surface, little here points to the expected Christian metaphor and message of hope, but slowly the existential angst of lost love and yearning take on a decidedly spiritual character; the singer cries out not only for companionship but for healing and a fresh start.
The proverbial "you" often addressed in these songs is quite obviously a human love interest, but there is more below the surface. "What I've Done" confesses acts that have left him shamed and "alone." But in the next piece, "The Saddest Song," the protagonist says, "I fell in love with foolish things, and now you're gone," but "I'm waiting here for you." In the end, Ballard sings, he knows he's "not alone."
Not all the metaphorical references demand a strictly spiritual interpretation. Some of these love songs are just that. But the final track of this somewhat brief 10-song disc, "You Do," attempts to put all that has come before into context. They are not just singing about love, but to the Source of all Love. When Ballard sings "If only I could see the way you do," he is asking for insight and direction, a way to live that eliminates some of the suffering and confusion. A culture that has idolized youth and romance would benefit from the lessons of this record.


© 2007 CCM Magazine. All rights reserved. Used with permission. Click here to subscribe.