"Veggie Rocks!" for Fans of Rock Salad with Plenty of Cheese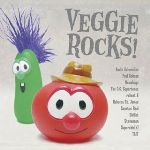 Artist:   Various
Label:   ForeFront
Bob the Tomato, Larry the Cucumber and the rest of the VeggieTales video gang occupy a warm place in the hearts of many a church kid and adult. While the Monty Python-esque humor is fun and the message uplifting, the music has been even better. Anyone who's watched toddlers bop to "I Can Be Your Friend" will likely agree that it and other "silly songs" are rightfully considered classics.
So, what do those silly tunes sound like when a bunch of rockers try to turn them into semi-serious fare? Although we can debate whether that question even needed to be answered, the result, "Veggie Rocks!", turns out to be a mixed bag.
The best results come when the rockers stay true to the wacky spirit of the originals. Audio Adrenaline's live "The Hairbrush Song" (originally released in 1997) is a ton of fun with the band mimicking characters. Michael Tait's soulful voice is just right for the ode to drive-thru happiness, "His Cheeseburger." And Steven Curtis Chapman joins  his sons for a rip through "I Love My Lips."
Others fare not as well. Superchic[k]'s "The Water Buffalo Song" attempts street-level hipness with a reggae/hip-hop feel, but it pales next to Larry the Cucumber's squeaky take on the original. And Rebecca St. James' VeggieTales theme invokes some unintended creepiness with its Evanescence-like goth-rock.
Tracks from Relient K, Sanctus Real, Paul Colman and Newsboys are fine, but "Veggie Rocks!," ultimately, demonstrates that, like a ripe, juicy vegetable, some things just can't be  improved upon.

© 2004 CCM Magazine.  All rights reserved.  Used with permission.  Click here to subscribe.