Versatile Kings is Hard to Pin Down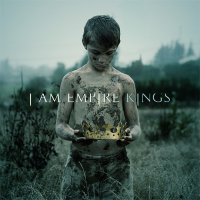 Artist:
I Am Empire
Title:
Kings
Label:
Tooth & Nail
It's always a good sign when a band's debut album is full of nods to its influences, but never mimicry, exuberant but composed. That's a fine line to walk, but California rock quintet
I Am Empire
makes a fine go at it with
Kings
, its debut on venerable rock label
Tooth & Nail
.
Kings
is surprisingly versatile and hard to pin down. The dirty opening chords of first track "Brain Damage," would lead one to expect an album heading in a traditional hard rock direction, but the chorus takes the track in an pleasantly melodic direction, a move that provides a bit of a clue to the paradigm at work on Kings. It's full of heart-on-its-sleeve pop-rock anthems, but not in a selling-out-to-radio kind of way. At times, like on "To The Moon," Kings reminds of
Anberlin
, a band whose career I Am Empire would seem happy to have. The album is driving, passionate, and yet contemplative. Lead vocalist/songwriter
Austin Lyons
carves out melodic spaces within his bandmates' solid rock chops on a highly autobiographical album that's a study in parent-child dynamics, which often are dysfunctional. That's not anything new thematically, but I Am Empire creates compelling material nonetheless. On "Brain Damage," Lyons sings, "We are the sons and daughters of broken homes/Kings of great homes couldn't compare to us/Because we are the light wherever darkness breeds/And we will never bow to them."
Diversity seems to be the name of the game, as each subsequent track adds another element to the band's sound. "Hammers and Anvils" is an impressively-constructed hard rock worship anthem, of which there aren't too many out there. The chorus? "Rain down your hammers and anvils. Let's build something great for the world to see." It's unconventional, but it works. With its delay pedal front and center, "Love & Despair" is a successful
Boy
-era
U2
anthem that doesn't feel at all like a pastiche, and "The Elevator" is less hard rock than something
Fall Out Boy
might concoct. "Take Me Away" is a more traditional acoustic power ballad which is only a slight misstep redeemed by Lyons' impassioned, fragile delivery.
Kings hits so many different notes that it's worth repeat listening simply to catch everything. And there are certainly hits among the bunch. For any band, it would be a success. For a band barely two years old, it's promises much more good to come.
**This review first published on January 25, 2011.