Vestal Goodman Says Thank You - Mar 12 News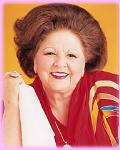 FROM THE DESK OF VESTAL – This past November, the incomparable Gospel great Vestal Goodman said goodbye to her husband of 53 years, Howard Goodman.  Many have known Vestal and Howard as part of the Gospel group, The Happy Goodmans, which has entertained Gospel music fans for over 50 years.
Lovingly referred to as the "queen of Gospel music", Vestal recently sent out a letter to Christian media asking that any and all reprint the letter and help her send a mass "thank you" to the many friends, fans, and members of the Christian music community who've showered her with love and support since Howard's home-going.  Here are her special words of gratitude….
FROM VESTAL GOODMAN:
This is an open letter to all my friends who have so lovingly reached out to my family and me with your prayers during this very difficult time. The last thing Howard said to me before he met the lord face to face was: "Sing Baby Sing". Darlin' let me tell you now, that's what I 'm determined to do.
I am making an endeavor to write each and every one of you, however it seems impossible to contact everyone, so I decided it would be fitting to write an open letter of appreciation and ask all of the publications to please print it for me.
The words "Thank You" seems so insufficient to describe the love and appreciation I wish to express to all of you. All of your cards and letters have been a real foundation of comfort and strength to me during this season of my life. The Lord is giving me new courage every day because of your love, prayers and support.
Howard and I had many conversations about retiring but quite frankly this was and will never be a job to me. This is a calling and you can never retire from a calling! Howard and I have always believed this concept with all our heart since the Lord called us into the ministry. As the saying goes I'm not retiring, just re-firing.
I plan to sing with Bill and Gloria Gaither and all my Homecoming friends. I will continue to record all the videos, CDs, television shows and concerts that I can possibly do. Little did I know, The Final Stand project tour was Howard's Final Stand but it was not mine. I am going very soon into the studio and record a brand new Happy Goodman project, which will include John Minick and his son Aaron. Also, I will be recording a project that will emphasize choral and choir music and I will have the opportunity to work with my good friend Lari Goss. This project will be a "Symphony of Faith and Hope for America". I have instructed Bobby Mclamb at B&R management to schedule the limited dates that are open in a church that will hopefully be near you, as an "Intimate Evening of Conversation and Music with Vestal". You can readily see that I'm not about to quit! So keep on embracing my family and me and keep us in your prayers while we yet labor for the Lord.
With greatest affections,

Vestal
Goodman Ministries
P. O. Box 158778
Nashville, TN 37215


For more information about Vestal Goodman, please visit www.vestalgoodman.com.