"Visible" - Music Review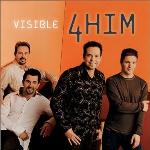 Artist:   4HIM
Label:  Word Records

On "Visible," 4HIM's 11th studio album, there's a new musical flavor as the group enlisted the help of producer Pete Kipley, who has helped shape the sounds of MercyMe, Salvador and GlassByrd, among others. The musicianship on these tracks is outstanding, ranging from modern rock-influenced guitar chords to gorgeous string arrangements and even some fun horns to mix things up.
Yet it's the selections produced by longtime collaborator Michael Omartian where the guys showcase their trademark vocal prowess. The lofty ballad "Candle in the Rain" and the mid-tempo "Bigger Than Life" feature impressive solos and harmonies, but it's "The Final Word" that arguably stands as the strongest track on the record. The lyrics build on the statement in 1 Corinthians 13 that "the greatest of these is love," and the top-notch vocals soar over a tight pop soundtrack.

While "Visible" doesn't exactly break new ground for its genre, it is a consistent release that will find favor in the ears of 4HIM's faithful following.

© 2003 CCM Magazine.  All rights reserved.  Used with permission.  Click here to subscribe.