"Volume and Density" – Intelligent Modern Rock
Andy Argyrakis

CCM Magazine

2004

9 Jun

COMMENTS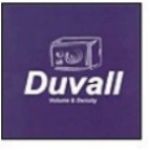 Artist:   Duvall
Label:  Asian Man
As front man for The Smoking Popes, Josh Caterer had more perks and pleasures than most Chicago rockers could ever fathom. He had a deal with Capitol Records, went on tour with Morrissey and Jawbreaker and held a relatively rare ranking as both a critical darling and a commercially viable artist. But at the cusp of his band's fame and at the peak of his personal profit level, Caterer started to search for something beyond the rock & roll lifestyle. He wanted to dig deeper to truly discover who he was and escape a continual cycle of dissatisfaction that resulted from the hectic hoop-jumping demanded by the industry.
Enter Duvall, Caterer's latest artistic endeavor with Popes' alum Eli Caterer (bass) and Rob Kellenberger (drums) that reflects his born-again ideals and previous band's signature melodic sweeps. Following a string of self-released EPs, the results on "Volume and Density" are a charming blend of the Popes' authoritative pop positioning ("Between the Lines," "Where I Belong"), contagious hopefulness driven by gliding instrumentation ("Taking Me Home," "Gimmie Some Light") and unshakable faith ("All in Your Hands," "Jesus  Never Leaves Me"). Plus, those who already own the EP "Racine" are sure to enjoy the pleasant resurfacing of that title cut's unadulterated pop and the modern remake of Spandau Ballet's easy crooner "True."
Overall, listeners can chalk this one up as both a creative and Christ-centered victory for one of rock & roll's ex-bad boys, who, based on his previous platform, has the potential to shine a luminous light on the mainstream.

© 2004 CCM Magazine.  All rights reserved.  Used with permission.  Click here to subscribe.