"Warren Barfield" - Music Review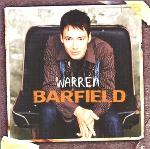 Artist:    Warren Barfield
Label:   Creative Trust Workshop
North Carolina native Warren Barfield unveils a disc full of radio-friendly acoustic music on his debut. The charismatic 24-year-old sings and plays his six-string guitar with lots of heart on songs that are well written and resonate with warm acoustics and Barfield's pleasant vocals.
The song arrangements are comprised of pretty standard guitar, drum and bass tracks, though each instrument is nicely layered — not cluttered — by producers Brown Bannister and Mark Hammond. Like the upbeat "My Heart Goes Out" that has hit the Christian radio charts, the catchy number "Beautiful Broken World" should follow suit, although "Whisper to Me" is a personal favorite with its plaintive, gently-picked guitar and breezy melody.
For the past five years Barfield has honed his chops in the coffeehouse and sanctuary scene as an indie artist. When he opened a show last year for songwriter Scott Krippayne, Krippayne was so impressed with the young singer that he brought him to Nashville and helped him score his first record deal. Comparisons to Bebo Norman abound with Barfield's same boyish good looks and simple story songs rooted in relationships and stripped-down sound. But he's no clone, so expect to see more of this unique, talented musician in coming months.

© 2003 CCM Magazine.  All rights reserved.  Used with permission.   Click here to subscribe.