Fledgling We as Human May Fly
Glenn McCarty

Crosswalk.com Contributing Writer

2013

17 Jul

COMMENTS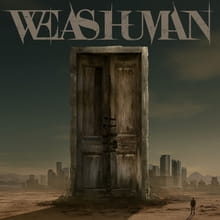 Artist: We as Human
Album: We as Human
Label: Atlantic
Few fledgling bands leave the nest with as much support and guidance as Nashville rock foursome We as Human. After two independently-released albums, the band caught the eye of John Cooper, lead singer/songwriter, and founder of veteran band Skillet. In no time, Cooper took the band under his wing, signed them to his newly-formed Hear it Loud label – administered by Atlantic Records – and heavyweight producer Howard Benson (P.O.D., My Chemical Romance) was on board. The self-titled debut, which released in June, is exactly what might be hoped for from a band with this kind of backstory: crunching guitars, emotive lead vocals, and arranging and producing fireworks, all announcing a fresh new voice has arrived on the modern rock scene.
Mostly, We as Human channels its aggression through the band's two guitarists, which serve as the perfect complement for the passion of tracks like "Strike Back" and "Dead Man." Thematically, the struggle to live a life of purpose amidst chaos and inner turmoil fills most of the album. This is art which attempts to shine a light into dark places.
"Bring to Life" features a more anthemic chorus, reminiscent of Anberlin. There are also a couple of big-name appearances, most notably Skillet's Cooper on "Zombie." "Take the Bullets Away" is another heavy-hitting song of personal anguish, with former Flyleaf lead singer Lacey Sturm trading screams with lead singer Justin Cordle on the vocals. "Taking Life" and "Sever" round out the hard-edged collection of songs.
The album culminates in a statement song, "I Stand," where the band offers a testimony to its Christian faith: "We don't play for the money or the girls or the clout … it's the fans and the lights, the guitars, and the mic … Yahweh alone is the only way." Rather than being a tossed-in acknowledgment of faith designed to appeal to a Christian audience, the message on the final song fits with the hope offered elsewhere on the album. A summer touring with Shinedown, Papa Roach, and Skillet should provide the perfect opportunity for We as Human to get its music to the masses, and can only help to broaden the reach of this surprisingly polished debut.
*This Article First Published 7/16/2013