With "Mighty Wind," Andraé Crouch Still Makes an Impact
Chris Well

CCM Magazine

2006

24 Oct

COMMENTS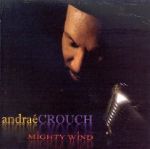 Artist: Andraé Crouch
Title:  "Mighty Wind"
Label:  Slave/Verity
As one of the most influential figures in modern Christian music, it would be difficult to overestimate the contributions of songwriter, conductor, performer and pastor Andraé Crouch.
Now celebrating more than 40 years of music ministry, he has served as an influence and an inspiration to a generation of modern Christian artists.
Long before Kirk Franklin bridged church music and the world, before Fred Hammond bridged the black gospel tradition and praise & worship, before Amy Grant, before Michael W. Smith, before Steven Curtis Chapman – there was Andraé Crouch in the late '60s and early '70s, opening doors, building bridges, innovating contemporary Christian music in ways the casual observer could not imagine. Long before it became common to see Christian artists on television, Andraé Crouch and the Disciples were musical guests on such shows as "The Tonight Show with Johnny Carson" (1971) and "Saturday Night Live" (1980 and 1984).
Following a lengthy absence from the studio as an artist – during which Crouch was scoring and arranging for TV, film and big market pop stars – "Mighty Wind" marks his first studio record in eight years. The album is chock-full of trademark flourishes that at once recall and yet build on Crouch's library of work, from the gospel rave-up "I Was Glad" to the groovin' "O Give Thanks" and the smooth redux of the classic "Jesus Is Lord." Along the way, several guests join in the celebration, with noted performances from Fred Hammond, Karen Clark-Sheard, Marvin Winans, Crystal Lewis, Tata Vega and others.
In the end, though, the quality in "Mighty Wind" does not rest in its significance as a milestone or in its guests but in, simply, a solid collection of gospel and worship songs. Andraé Crouch proves yet again why he is such a seminal figure in the history of contemporary Christian music – and why, 40 years down the line, he's still making an impact.  


© 2006 CCM Magazine.  All rights reserved.  Used with permission.   Click here to subscribe.