With "Revenge," O.C. Supertones Say Ska Isn't Dead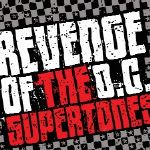 Artist: The O.C. Supertones
Label: BEC
The latest from Orange County's premier Christian ska-punk band, the O.C. Supertones, sticks close to the punk-and-funk-with-horns territory it's plowed since arriving on the national scene in 1996.
The only real difference is context: Ska-punk boomed in the mid-'90s, but lately it's dropped off the cultural radar. Five Iron Frenzy even retired last year. But that doesn't mean the Supertones approach things with any less fervor. The band's sixth studio album offers all the high-speed riffing and big brassy orchestration that fans have come to expect.
The album's a little more raw and more traditional in the ska-punk sense than the poppy renderings of 2002's "Hi-Fi Revival." Opener "Wake Me Up On Time" may be more a pop song with ska embellishments, but its bone-crunching power-chord progression is an adrenaline rush. "Prince of Peace" dips into rock-reggae territory, reminiscent of early Police, and "Shepherd is the Lamb" is a softer, meditative piece on God's love.
There's little on this album musically that the Supertones haven't done before and maybe even done better. Lyrically, though, the band still offers inventive images. "The trumpet sounds like a worldwide alarm clock/ The dead rise, this might come as a shock" on "Wake Me Up On Time" points both to the band's directness and subtle sense of humor (though the scenario is anything but funny). The band also riffs on consumer culture ("Cult of Cool") and recognizes man's brokenness ("Faith of a Child," "Everything's Broken"). And when Matt "Mojo" Morginsky sings of being "badder than the water down in Mexico" on "We Will Overcome," there's little doubting his passion for the church.
The disc closes with the seven-minute "Dream of Two Cities," an epic vision of Jerusalem and Babylon at the end of time, of good overcoming evil. It's a hopeful and welcome look to the future by a group that's cemented its status as veterans.

© 2004 CCM Magazine. All rights reserved. Used with permission. Click here to subscribe.
You can find The O.C. Supertones music videos at Godtube.com.