Women in Christian Music: This One's for the Girls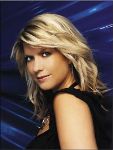 Not much more than a decade ago, if you played in a Christian band, you were generally elated just to have enough greenbacks to get to the next gig. Ask StarFlyer 59, Bleach, the O.C. Supertones, Five Iron Frenzy, Seven Day Jesus and The Waiting. Even Third Day once traveled at the mercy of a fuel-thirsty van.
Now, there are more bands in the limelight than you can shake a stick at. Think Kutless. David Crowder Band. Pillar. Sanctus Real. Hawk Nelson. The Afters … and on and on and on. The pendulum of popularity has swung in favor of these bands of brothers like no other time in Christian music.
And female artistry is losing out on the gas money.
As labels divert artist development and marketing dollars to these male acts in this $700 million dollar Christian music industry, it's tough to advance a female act's career, let alone break a new artist who is a woman.
So, for those who dream dreams by singing into hairbrushes – or once did – we salute several of today's top female acts:  Sara Groves, Mary Mary, Nichole Nordeman, Rebecca St. James, Natalie Grant, Kierra "Kiki" Sheard, Bethany Dillon, BarlowGirl and Leigh Nash. These leaders share their perspectives for restoring Christian music's time-honored tradition: Women and men standing shoulder-to-shoulder for the sake of the cause.
The Real Me
The most high-profile female artist of the last year has been Natalie Grant.
"I've had so many people say, 'How does it feel?'" the 2006 GMA "Female Vocalist of the Year" says. "I don't know how else to say it but to be honest and say, 'I feel really, really good.'"
Enjoying the Pottery-Barn-styled home she shares in Nashville with her husband/producer Bernie Herms (Avalon, Casting Crowns), Grant's dressed this June afternoon in earthy summer casuals. It's a scene disguising the fact that she's a scrapper, an artist who's survived not one but two label shutdowns across her first two records — each time just as her career taxied for a blue-sky takeoff.
But her last two studio projects – 2003's "Deeper Life" (Curb), which included the hit "No Sign of It," plus 2005's "Awaken" (Curb) – finally gave Natalie flight. Christian radio's been one key to Grant's takeoff. She's long been admired for her vocal expertise and for spot-on emotional interpretation, as with last year's moving No.1, "Held" (which also charted at mainstream radio).
"It took me a while to realize that it is OK to speak up; you have to take control of your own artistry," Grants says, trying to key in on how she cleared the clouds. She gives ample credit to her record label, Curb Records, for sticking with her as she found her wings for a third time. She's also taken charge by learning the craft of songwriting. "It took me on a real journey of self-discovery to find out what I wanted to say," she explains.
Along with her husband's coaching, Grant says she was inspired by other women whose artistry helps guide her toward discovering her songwriting voice – peers such as Sara Groves, Leigh Nash and Nichole Nordeman.
We Build
Grant says a woman's artistry at its best "reflects that she's empowered, that she's a woman of substance and has something to say." That's a fitting description for today's top female acts. Several tend to focus their efforts on presenting an encouraging message to the Christian church.
Nichole Nordeman is a two-time GMA "Female Vocalist of the Year" widely recognized as a songwriter's songwriter. With the poetry and precision of a surgeon's scalpel, her lyrics cut to the crux of both human brokenness and divine hope.
Speaking to the state of female artistry in Christian music, Nordeman reflects, "I have been obsessed recently with Sara Groves' 'Add to the Beauty' album. It feels very much to me like an example of what the strong but broken heart of a woman can offer in a culture where we seem mostly to be giving credibility – and airplay – to 'God is Great! God is Great! Praise His Name! He Reigns! He Rules!' etc. Sara's songs don't deny any of God's goodness. To the contrary, instead of heaping on the superlatives, she just starts peeling layers away ... one song at a time ... until I'm sitting at the red light weeping because I, too, want to add to the beauty, or build the kingdom one chunk of stone and messy bit of mortar at a time, or love someone who is impossible, just because it's right to."
Continuing in this vein, Nordeman adds, "This is what women bring to the table of Christian music. Or should. This is what motivates me now. First, that we look for the redemptive work of Christ's love – always and in everything and everyone – and that we write and sing about that. Second, that we make a pact with ourselves not to perpetuate the mis-marketing of God – singing and saying empty and theologically shaky things because that might be easier and people might buy more records. And, thirdly, that the music we offer to the world and to the church is not just for the sake of stirring everyone up emotionally, but that it calls us to action – whether that action is serving anonymously in our community or taking a public stand against sex trafficking like Natalie [Grant] or exposing the suffering in Rwanda like Sara [Groves]. Once our music points to the redemption of the love of Christ on a broken planet, it has to ask, 'What now?' Otherwise, we've brought nothing."
Taking a public stand has literally defined the career of Rebecca St. James. Late last year her "If I Had One Chance to Tell You Something" (Forefront) signaled a newfound sense of freedom, joy and energy for doing what the Grammy-winning artist does better than anyone – rallying the Christian church to be and do its best.
"Rock Bec is back!" remarks St. James, and fans are loving it. During a recent visit to the White House, even President Bush appeared pleased with her efforts. St. James – who also moonlights as an author, speaker and co-founder of the SHE events for girls – has spent the first part of 2006 feeding her ever-broadening worldview. She says, "We've had some really, really amazing ministry opportunities so far this year, starting out in Kenya and Rwanda earlier this year – my first trip to Africa. It's really been a blessing."
Singer/songwriter Sara Groves continues to enjoy a remarkable season herself. While she's been a popular favorite since her first hit single, "The Word," entrenched itself on Christian radio in 2001, many of her most avid fans are fellow artists. In addition to Grant and Nordeman – who have already cited Groves' influence – Jars of Clay, Bethany Dillon, Point of Grace and many others are quick to champion her artistry – especially her latest album, "Add to the Beauty" (INO). Groves' critically acclaimed 2005 release sounded a clarion call to the church, urging it to become increasingly active in God's justice work around the world.
"Long before the album ever came out, I felt like 'Add to the Beauty' was my clear declaration of faith," Groves says. "So, to have other people reinforce that is obviously a great feeling."
Regarded for the vulnerability communicated in her art, Groves recently released "Just Showed Up for My Own Life" (INO). It's an engaging, documentary-style DVD that's a natural extension of "Beauty," illustrating Groves' personal transformation toward advocacy. She says this "paradigm shift, this heart change" is about being in greater community with the body of Christ. "It's the greatest thing I've ever experienced."
Young Pioneers
The writer of 1 Timothy exhorts, "Let no one despise your youth, but set the believers an example in speech and conduct, in love, in faith, in purity." Bethany Dillon and BarlowGirl are shining examples.
Dillon resembles a sort of prodigy singer/songwriter whose lyrics belie her youthfulness. A self-described tomboy from rural Ohio, she released 2004's "Bethany Dillon" (Sparrow) at the age of 15, scoring big at radio with the No.1 single "All I Need" and the Top 10 hit "Beautiful." Her second record, last year's "Imagination" (Sparrow), landed her song "Dreamer" in the motion picture by the same name, put Dillon on the cover of CCM and further exhibited that she's a blue-chip talent.
"I think I'm grateful that I still feel like one of the kids in my family," Dillon says, reflecting on her achievements. "I'm happy all this has happened, but, if all of it ended tomorrow, I'm glad that family has been maintained." On the edge of 18 years old, there's little doubt Dillon's best is yet to come.
While Dillon may be in good company as a solo pop artist, all-female rock bands remain a rare musical commodity. In the Christian genre, Moses had more visions of God than we've had girl bands. So kudos to Chicago's BarlowGirl. Sisters Lauren (drums), Alyssa (guitar/piano) and Rebecca Barlow (bass) – each in their 20s – were 2004's best-selling new artist with "BarlowGirl" (Fervent). Earlier this year "I Need You to Love Me" became the band's second No. 1 cut off its sophomore effort, the Otto Price-produced "Another Journal Entry" (Fevent). Simultaneously taking very public stands for sexual purity and related causes, BarlowGirl has emerged as an example to girls and boys alike.
"I think it's a given that we are role models for girls," Lauren Barlow says. "But I think just as many guys who come to our shows say, 'I look up to you because you're standing for purity and I'm standing for that, too.'"
Salt and Light
Top female Christian artists work effectively to engage larger culture, too, carrying a hopeful message to the marketplace of ideas.
Sisters Erica and Tina Campbell formed Mary Mary and released their extremely popular debut album, "Thankful," in 2000. The duo has been at the top of the charts practically from day one with what are now signature gospel harmonies and polished urban beats. Their string of major crossover radio hits has included "I Sings," "Shackles (Praise You)" and "In the Morning." After taking a break to focus on family life, last year Mary Mary returned with a magical third, self-titled project and two more radio hits – "Heaven" and "Yesterday." Among a truckload of accolades, the duo recently earned an American Music Award.
"We definitely appreciate the Dove Awards and the Stellar Awards," Erica Campbell says, "but to know that people outside our genre pay attention is absolutely amazing." 
Like Mary Mary, Leigh Nash has made a strong impression in both the Christian and general markets. She started finding her artistic voice as a girl growing up in New Braunfels, Texas, listening to strong women of country music such as Loretta Lynn, Patsy Cline and Tanya Tucker.
Later, Nash and church-mate Matt Slocum assembled Sixpence None the Richer, eventually gaining worldwide popularity and a Grammy nomination with huge hits such as the No. 1 smash "Kiss Me" and their cover of The La's "There She Goes." It was a bittersweet taste of success, as record label foils repeatedly nagged at the group during its 12-year career. No one would have blamed Nash if she had walked away from music to treasure life out of the limelight with her husband, producer and former PFR drummer Mark Nash, and their son, Henry. Yet, Leigh continues to shape the face of music with the recent release of "Blue on Blue," her long-anticipated solo debut via her own imprint, One Son Records.
"I feel like it's what I'm supposed to do. It's also something I really want to do," Leigh explains. "I guess I think that, as long as God is making it possible and it keeps on seeming like it's the next thing, [I'll do it]. That's what I'm into – you say your prayers and then you do the next thing."
And remember that admonishment from 1 Timothy? Check out Kiki Sheard. Following her stellar 2004 debut, "I Owe You" (EMI Gospel), Sheard is a student in Detroit and continues to record and perform. She recently released the R&B delight, "This Is Me" (EMI Gospel). With an emphasis on her own songwriting for this project, the 18-year-old says, "This is my testimony. It's about me going through life experiences as a young adult. It's about me stepping out into the music industry and being less under Mommy and Daddy's wings." Broad wings they are:  Kiki's mother is Karen Clark Sheard of the landmark gospel group The Clark Sisters (whose mother was Dr. Mattie Moss Clark, a revered gospel music matriarch). Kiki's father is Detroit's highly-respected Pastor J. Drew Sheard.
Between Rock and a Hard Place
The achievements by these women and others in the last year should warrant a celebration of Greek wedding proportions – if it were not for the current dilapidated state of female artistry in Christian music.
"There's always been that strong core of empowered, successful female artists. And we still have that," Natalie Grant observes. "It's just a little lopsided now with male artists."
That's a generous description.
An unscientific polling of Christian industry insiders suggests Christian music is facing a unique condition today:  Its offerings by female artists run thin. As previously reported in CCM, the 2006 record release schedule is deluged with band acts. Rock is the sub-genre flavor of choice, as it has been the past few years. (Some might argue rock is edged out by the continuing popularity of worship music. Yet, more worship music today than ever is rock & roll. Think David Crowder Band, Starfield, Building 429, The Longing and Dalton, not to mention longtime staples such as Delirious and Sonicflood.)
This year's trends mirror last year's tendencies. Billboard's 2005 Year-End Top Christian Albums chart contained one female title in its Top 10 (Mary Mary). Natalie Grant's "Awaken" and Amy Grant's "Rock of Ages:  Hymns & Faith" (Word) were the only additional projects from women to crack Billboard's Top 25. Only nine projects by women landed in the year's Top 50. And, between March 2005 and February 2006, only one out of 14 albums certified gold (500,000+ units sold) was a female act's title (again, Mary Mary) as tallied by the Recording Industry Association of America.
Claims of innocence tend to come from every corner. Release schedules reflect that record labels aren't signing as many female acts. "Consumers want bands," they retort. Off the record, a fraction of insiders point fingers at radio stations, saying programmers are playing fewer singles by women. Charts seem to bear that out. In fairness, that decision seems to be in response to consumer testing – station-directed surveys in which local listeners influence song rotation with their preferences. Presently, songs performed by women are not testing well.
Radio, retail, media – all just giving us what we want, right? And that's all we, as consumers, have ever really demanded.
But are industry decision makers really sure? Christian music's core demographic is women between the ages of 25-44. The Gospel Music Association recently reported the industry's primary audience is 30 percent more likely to be between the ages of 18-44 compared to the rest of the U.S. population. Are consumers actually saying "no"? Or are some just not getting the chance to have their preferences counted?
Then, there are the usual cultural obstacles. "It's very image driven," says Mary Mary's Erica Campbell about the music industry. "It's very much about being thin and being beautiful and about perfection. But the only perfect one is God." As with at-large culture, these issues loom more pointedly for female acts than for their male counterparts.
All these elements form a slippery slope for Christian music – a genre boasting that it is distinguished from all other music by being lyrically-driven rather than stylistically-driven. If industry decision makers are reticent to take chances on female acts due to popular demand and if conditions are not favorable for attracting new female talent, then Christian music's mission to draw people closer to God moves forward today with a bad limp.
All I Ever Have to Be
To a woman, each artist interviewed for this story had considerably more good to say about Christian music than not. What seems to unite this perspective is landing on a definition of success not driven by numbers or even accolades. Success, they suggest, happens when one has the chance to discover who God intends a woman or man to be in the present, constantly hurling toward a hopeful future.
For Mary Mary, that means pursuing that beloved scripture often quoted from pulpits on Mother's Day, Proverbs 31. "The God that is shining inside [you] is definitely the most important factor," Tina Campbell says. "If you don't have that, you are wasting your time."
"I think what was important for me was finding my voice," Natalie Grant says. "Not my singing voice, but finding out how to do something that matters with my life. I think, as a woman, I ask, 'How does that translate into my artistry?'" To that end, her songwriting voice is influenced by her experiences through her HOME Foundation, a campaign to raise awareness about international human trafficking.
Sara Groves, too, aims to continue her work toward social justice. She prefers to work with what's in front of her instead of fighting for what isn't available. For her, that means zeroing in on developing one's character.
"The women I really respect are women who know who they are in Christ and who have that ability to nurture everything around them to be better," she says. "That can be the gentle power of women." Sara remembers meeting Christian music's most influential artist, Amy Grant, for the first time. "The thing I was so struck with was her gentleness. She was so kind and gracious."
For BarlowGirl, finding success used to mean practicing as a band 50 hours a week so they could play as well as guys, Rebecca Barlow says. Now it means being faithful to God's calling. Rebecca explains that this begins with one's heart.
"It's not like you're going to wake up one day, and God is going to go, 'Here's your calling,' if you've not even picked up a guitar. No, it's the little things first."
She continues, "God is going to start gradually; so if we don't obey Him in the little things, He can't take us to where He wants to take us." Her trio illustrates this point. "The three of us joined our church worship band because that was one of the things God was putting on our hearts. We didn't know why. We thought it was just for fun. But, now as I think about it, God used that. If we hadn't been obedient in that, I don't think we would be where we are today."
Author and Women of Faith core speaker Luci Swindoll agrees. "God made us to be us. And it's such a joy to be around people who never try to be something they're not," she says via email. "Vulnerability is the key to finding who you are. When we throw up barriers or defend or protect or deny, it circumnavigates what God is trying to get at: the real you. It blocks His work. But, when those barriers are dropped and we let go of all those trappings, the world opens. People listen. They even buy our albums, and they feel different for having listened to what God is saying through us."
The Road Ahead
We would be remiss not to acknowledge that popular preferences tend to ebb and flow. Like economic markets that correct themselves, like theological experimentation finally recorded by scholars as fad, Christian music's popular pendulum will likely swing back the other way, favoring, again, pop and singer/songwriter acts regardless of gender. Not all bands introduced this year will find commercial legs – in fact, based on record sales, very few of 2006's new bands have been well received so far. And many that don't connect over the next year will be unceremoniously pruned from label rosters. To feed interest (and industry distribution systems), a new crop of potential stars, including women, will begin to rise. But is it good enough to rely merely on natural forces to balance the scales again?
In Christian music, women have long made tremendous strides, kicking at the darkness to bring light to the world. First, it was Evie, Annie Herring of Second Chapter of Acts and the Boone sisters. Then it was Shirley Caesar, Sandi Patty, Twila Paris and Amy Grant. Add CeCe Winans, Yolanda Adams, Margaret Becker, Susan Ashton, Cindy Morgan, Jennifer Knapp – and, of course, the women we celebrate today – and it's clear from the nascent Jesus Music days to the present era, female artistry makes a pervasive difference in the genre.
So, as new female acts develop their artistry to fill the shoes of those performing before them, are they being set up for success? How do we tell rising acts such as Ayiesha Woods, Krystal Meyers, Sarah Kelly, Vicky Beeching, Jessie Daniels, Ana Laura and others: "Thanks for your work today, but we've only got room for you tomorrow"?
"It's true. There are a lot of bands blazing a trail today; but we definitely have our place," Mary Mary's Erica Campbell says. On our journey to know God better, Christian music is at its best when diverse cultural, theological and experiential points of view are available, each one drawing us closer to the Creator of human diversity.
But, maybe, change can best start when that young girl's hairbrush is finally exchanged for a microphone. Or a keyboard. Or a guitar.
"I wish more girls would rise up and grab hold of their calling and what they feel they are supposed to do," says Rebecca Barlow. "God has so many different aspects. God gives each person in their life one aspect that they are to share with their generation. If you just had guy musicians, there would only be that aspect. But God gives each person a different place to be a mirror of who God is. As women, we need to start speaking out more about what God has given us on our hearts, just as the guys are already doing."


© 2006 CCM Magazine.  All rights reserved.  Used with permission.   Click here to subscribe.