"Word of Mouth" Takes Reuben's Artistry to New Levels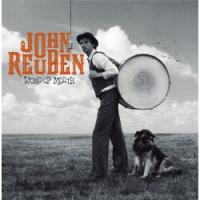 Artist: John Reuben
Title: "Word of Mouth"
Label: Gotee
In the constant battle of style vs. substance, John Reuben has always managed to provide listeners with both over the course of his 10-year music career – a remarkable feat in the often superficial world of hip-hop. But on "Word of Mouth," there's something strikingly different from the outset as the Columbus, Ohio, native noticeably takes his artistry to new levels with better take-away value lyrically and a far fresher sound.
While some of his past work – even 2005's "The Boy vs. the Cynic" – felt a little dated and was far too light-hearted to truly be taken seriously, Reuben tackles the struggles of everyday life with panache, particularly on the opening track "Sing it Like You Mean It," a pertinent summons to pursue the calling God has for your life.
Forgoing the preachiness and pretense that Christian hip-hop is sometimes criticized for, lyrically, Reuben spins one creative yarn after another throughout "Word of Mouth." The wordplay proves most impressive on "Make Money" and "Universal," two timely tracks that'll surely stick with listeners for the long haul. Much like The Black Eyed Peas, Beck and tobyMac, Reuben smartly serves up his hip-hop with a healthy dose of rock and pop sensibilities, something that plays out particularly well on the laid-back groove of "Miserable Exaggeration" and the insanely catchy title track.
With 10 songs as clever as these, it shouldn't take long for "Word of Mouth" to get out, allowing more of Reuben's redemptive rhymes to be experienced by the masses (just as they should be).



© 2007 CCM Magazine. All rights reserved. Used with permission. Click here to subscribe.