Worship Again - Music Review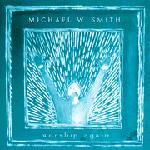 Artist:  Michael W. Smith
Label:  Reunion Records
Little did Michael W. Smith know that the release date of his live Worship disc would share the same day as America's most catastrophic series of events.  Since its street date of Sept. 11, 2001, Smith has been on a quest to encourage a country crippled with hurt and desperation through a combination of patriotism and praise.  "There She Stands," the heavily orchestrated finale to Worship Again, illustrates both intents as Smith confirms we are indeed one nation under God, and we are to praise His name regardless of our circumstance. 
This mostly live recording is loaded with declarations of the Lord's everlasting majesty and strength, from the album's anthemic opener "Forever We Will Sing," to the Celtic-flavored "You Are the Lord" to the momentum building "Wonderful Cross."  The album maintains such overflowing energy that listeners nearly feel like they are a part of the original experience.  The 10,000-plus original audience members corporately singing and praising to "Ancient Words," "Lord, I Give You My Heart" and a spine-tingling extended version of Rich Mullins' "I See You" encourage personal participation.  During such cuts, along with "There is None Like You" and "Prince of Peace," Smith's vocals are fervent and free flowing. 
During those segments his voice trails off, leaving only the backing vocalists and the crowd to continue on in a gesture that cements his worshipful authenticity.  Standouts also include bookend studio cuts "Here I Am to Worship" and the return to collaborative roots with Amy Grant on the gripping duet "Lord Have Mercy."
Used by permission.  CCM Magazine © 2002
Buy Worship Again now at www.lifewaystores.com!